Flooding kills 66 in Indonesian resort
( 2003-11-03 16:27) (Agencies)
Flash floods swept through a popular tourist resort on Indonesia's Sumatra island, killing 66 people, five of them foreigners, and leaving dozens missing, local officials said Monday.
The foreigners included two Chinese, a German, an Australian, and a Singaporean, said Sgt. Togar Sinagar, a local police officer.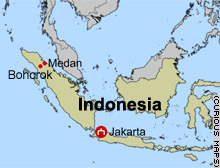 The floods, which were triggered by days of heavy rain, took place late Sunday in Bohorok, close to the provincial capital of Medan in north Sumatra province.
"We have found 66 bodies. The flood was caused by massive logging in the Leuser national park," Langkat District Chief Syamsul Arifin told reporters at the scene, referring to the large national park nearby.
Search and rescue officer Robert Sirait said the death toll could reach 72 people. Dozens of bodies were stacked up outside a local mosque, witnesses said.
A large river that flows down from nearby mountains overflowed its banks and washed away dozens of makeshift guesthouses that host tourists who come to the area to see its famous orangutan reserve.
"It was so fast. It came at about 9:30 p.m. and washed away everything within just minutes," said Mega Sembiring, an employee at the Bukit Lawang Cottage.
"I myself saw three houses get totally destroyed and washed away," he said by telephone.
"As far as I know, only Bukit Lawang Cottage and Batu Mandi hotel remain complete. We are now waiting to be evacuated," he said.
Bohorok is home to an Orangutan reserve that attracts thousands of tourists every year, most of whom stay in cheap guesthouses that overlook the river.
Deforestation in Sumatra has been blamed for many landslides and floods by disrupting natural water absorption and flow. The island is home to many palm plantations that are a staple of Indonesia's economy.