Exhibit: Nuke allure
( 2003-11-03 11:27) (ABCNEWS.com)
Step into the top-secret U.S. government laboratory where American scientists created the atomic bomb in 1945.
Sculptor Jim Sanborn spent five years collecting chunks of uranium, radiation detectors, spherical devices, and government photographs to help him depict the Critical Assembly Lab and the Chemicals and Metals Lab at Los Alamos, N.M., as they looked in the final months of the Manhattan Project.
His exhibit opens today at the Corcoran Gallery in Washington, and it's called, "Atomic Time: Pure Science and Seduction."
Seduction?
"Very often scientists can be seduced by the power they are working with," Sanborn said. The exhibit "is about the seductive effect these materials have on scientists. Nuclear power is very seductive."
Sanborn depicts the experiments by which U.S. scientists learned to press the trigger that launched the nuclear arms race that continues today.
Too Much Detail?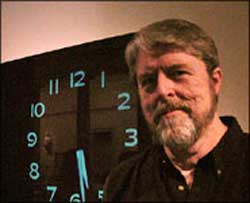 Jim Sanborn, creator of the exhibit "Atomic Time: Pure Science and Seduction," stands in front of a radium dial clock frozen at 5:30 a.m. on July 16, 1945, in Ancho, N.M., the time of the nearby blast of the first atomic bomb. [ABCNEWS.com]

Because it is so technically detailed, the exhibit may ignite a debate about whether it reveals too much about how to make the bomb (after all, Iran and North Korea are working on similar devices, far less primitive and far more potent).

"The information contained here is readily available from public sources, including hundreds of declassified documents posted on the Internet," Sanborn said, but "I don't think it's been represented three dimensionally so precisely before."

Corcoran curator Jonathan Binstock calls Sanborn's installation "a unique brew of historical accuracy and aesthetic license."

"This is a shrine to the best and the brightest," said Mills Davis, a computer consultant who viewed a preview and said the exhibit extols the genius of the bomb's scientists. "It's only smaller minds who would say: 'By God, if we start talking about this, people will start making bombs!'"

Sanborn said he had no idea whether the federal government might attempt to limit access to the exhibit materials.

If President Bush chose to view the exhibit, "I think he would probably be quite chilled by just how much information is available to everyone about this subject," Sanborn said. "You're all of a sudden surrounded by the lab. I'm not sure it's a position he's ever been in."

¡®Festive Menace¡¯

If government investigators do show up, they will be confronted by these sights and sounds:

Black cables snaking across a dimly lit laboratory floor beneath eight tables displaying devices used to experiment with packaging the Trinity device.

Amplified clicking sounds from detection devices announcing the presence of low-level radiation from four radium wristwatches. (Nothing else in the exhibit is radioactive).

Racks of black, cabinet-sized detection equipment, their U.S. government property tags attesting to their original service at Los Alamos. "I like to think it has festive menace with the green and yellow lights," Sanborn said.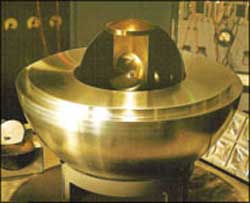 Artist Jim Sanborn's conception of the bottom half of a disassembled spherical device created by U.S. scientists in 1945 experiments in connection with America's first atomic bomb.

Blue radium clock dials frozen at 5:30 a.m., July 16, 1945, the time of the Trinity blast in Alamagordo, N.M. (Sanborn bought the clocks at flea markets and antique shops in Alamagordo. "These are the original Doomsday Clocks," Sanborn said. "I found them by carrying a Geiger counter" into showrooms and storage areas.")

A series of uranium radiation photographs. Sanborn created them by placing chunks of the element on photographic paper and allowing the radiation to create an image. In effect, Sanborn said, "the uranium took its own picture."

Silvery metal spheres, the central components of the Trinity experimental package. Sanborn said he purchased blank spheres from former lab employees who bought them as surplus in the 1950s and 1960s. (One was serving as a bird bath).

Miniaturization

Sanborn used the blanks to machine replicas of the original weapons-grade spheres, which, in the 1940s, were packed with uranium and plutonium.

The original spheres, Sanborn said, were about 18 inches in diameter. By 1947, the size was already shrinking, he said, first to 13 inches, then to 8 inches.

"Now the entire nuclear device can be the size of a walnut," Sanborn said.

Citing weapons experts and declassified government publications, Sanborn said the bomb ignites when a hemisphere of munitions explodes, compressing the core of radioactive material, which triggers a nuclear blast. Today, he estimated, the total weapons package has been reduced to about eight inches in diameter.

"That's how they're able to build a suitcase bomb," Sanborn said.

"Discussion" ¡ª that's the value of the exhibit, according to John Coster-Mullen, an atomic research historian and photographer who attended a preview.

"The Clinton administration was buying up fissionable material around the world, which is really the only way to prevent terrorists from making the bomb. The Bush administration came into office and stopped the purchases. Maybe this [exhibit] will get people talking about this issue again."

By its presence near Pennsylvania Avenue, "Atomic Time" literally brings the issue of weapons of mass destruction to the door of the White House. A White House guard post and driveway sit 210 steps from the front door of the Corcoran Gallery.

Sanborn is no stranger to government science and secrecy. In 1991, commissioned by the Central Intelligence Agency, he sculpted Kryptos, a curved copper plate which sits in a courtyard at CIA Headquarters in Langley, Va. Devised in consultation with a retired government cryptologist, the plate contains a coded message that has never been fully deciphered.