Arafat says he'd accept peace talk offer
( 2003-11-03 10:44) (Agencies)
Following an Israeli offer, Palestinian leader Yasser Arafat said Sunday he is ready for peace talks, while about 6,000 Palestinians returned to jobs in Israel for the first time in a month.
In an abrupt turnaround last week, Israeli Prime Minister Ariel Sharon said contacts were already underway with Palestinian officials, adding, "We are ready to enter negotiations at any time."
Sharon had previously conditioned talks on a crackdown on violent Palestinian groups responsible for attacks on Israelis.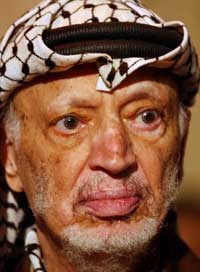 Palestinian leader Yasser Arafat pauses during a newsconference, following meeting with the Deputy Speaker of the Greek Parliament Panayotis Sgouridis at his compound in the West Bank town of Ramallah Sunday, Nov. 2, 2003. [AP]

Asked about Sharon's remarks, Arafat told reporters he would accept an offer for talks.

"There is no official communication, but we are ready," he said after meeting a delegation of Greek lawmakers at his headquarters in the West Bank town of Ramallah.

Talks on the U.S.-backed "road map" peace plan have been stalled for weeks because of Palestinian bombing attacks and Israeli military operations, along with the Palestinians' inability to form a stable government.

Arafat has often said he is ready to talk peace, but Israel and the United States are boycotting him, charging that he is tainted by terrorism. They insist on dealing with an empowered prime minister.

On Sunday, Arafat formally asked Palestinian Prime Minister Ahmed Qureia to form a government, and Qureia said he accepted. Palestinian officials said they hoped the work could be completed in a few days.

Arafat's first choice for premier, Mahmoud Abbas, lasted only four months before resigning Sept. 6 after repeated clashes with Arafat over who would run the Palestinian security forces. Abbas also blamed Israel for its failure to stop military operations and ease restrictions.

Qureia has been serving as the head of an emergency 30-day Cabinet. He, too, could not agree with the veteran Palestinian leader over who should be the new interior minister in charge of the armed forces.

The one-month decree runs out Tuesday. Qureia said Sunday he hopes to put together a government that is "acceptable to everyone," but Palestinian officials said the dispute with Arafat over interior minister has not been resolved.

The Israelis announced early Sunday that they would permit about 15,000 Palestinians to enter the country for work. A military announcement referred to "confidence-building measures" decided by the government.

Before dawn, about 6,200 workers over the age of 35 crowded the Erez crossing point from Gaza, submitted to strict security checks and went to jobs in Israel.

The permits arrived at the beginning of the second week of the Muslim holy month of Ramadan, when families traditionally splurge for festive evening meals at the end of the daily fast.

"It is a miracle from God because I was running out of money due to the holy month of Ramadan and I was thinking how I would manage to feed my children in this very bad economic situation," said Mohammed Salman, a 42-year-old construction worker who has seven children.

However, Salman was unhappy with the security checks, which make a trip from his home in the Jebaliya refugee camp to Tel Aviv last several hours instead of less than an hour.

Strict closures were placed on Palestinians in the West Bank and Gaza before the Jewish New Year holiday in September because of increased concerns about attacks. The restrictions, which had been extended through a series of Jewish holidays ¡ª and the Oct. 4 suicide bombing at a that killed 21 ¡ª prevented nearly 3 million Palestinians from leaving their communities.

Many Palestinian farmers could not reach their fields, badly damaging the annual olive harvest.

Before fighting erupted three years ago, more than 50,000 Palestinians from Gaza and 100,000 from the West Bank worked in Israel.

Also Sunday, Sharon traveled to Moscow, where he was expected to talk with President Vladimir Putin about Israel's concerns over Iran's nuclear program.

Iran has pledged to open its nuclear program to unfettered inspections and to suspend uranium enrichment. But Israeli officials fear Iran is covertly acquiring nuclear arms know-how, at least some of it from countries of the former Soviet Union.