Iran angry over demands on nuke agreement
( 2003-11-03 10:10) (Agencies)
Iran's supreme leader said Sunday that "excessive demands" from abroad could prompt Tehran to retreat from a recent commitment to give inspectors from the U.N. nuclear watchdog more access to its atomic facilities.
The warning by Ayatollah Ali Khamenei comes as the International Atomic Energy Agency evaluates a dossier on Iran's nuclear program that Tehran supplied to meet an Oct. 31 deadline to prove it is not developing atomic weapons ¡ª as U.S. officials believe.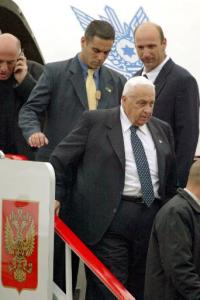 Israeli Prime Minister Ariel Sharon gets off a plane while arriving in Moscow's Vnukovo airport, Sunday, Nov. 2, 2003. Sharon arrived Sunday in Moscow, where he is expected to talk with Russian President Vladimir Putin over Israel's concerns over Iran's nuclear program and a Russian-backed U.N. resolution on a Mideast peace plan. [AP]

Iran agreed last month to allow unfettered inspections of its nuclear facilities and to stop enriching uranium ¡ª a process that creates fuel for nuclear plants but also can be used to build weapons.

"If parties to the talks with us or centers of global power come up with excessive demands and we feel that our interests and values are harmed, we won't hesitate to end this trend (of cooperation)," Khamenei said in a speech on state-run television.

"Peaceful nuclear technology is our legitimate right and no country and no organization can deprive us of this right, including the right for production of our own nuclear fuel."

Khamenei spoke before a large group of military and government officials at a party marking the daily breaking of the fast for the Muslim holy month of Ramadan.

Khamenei, who has the final say on all state matters, said he will intervene to stop the Iranian government from making decisions he considers inappropriate.

"So far, nothing has been done against our principles," he said. "Wherever I feel that a step has been taken against the directions and goals of the establishment, I will stop it."

IAEA Director General Mohamed ElBaradei told CNN on Sunday that the agency still is evaluating Iran's nuclear dossier.

The United States accuses Iran of pursuing nuclear weapons and has pressed for the IAEA to declare Iran in violation of the Nuclear Nonproliferation Treaty. Tehran, however, insists it is only developing nuclear energy to produce power as its oil stocks decline.

IAEA experts have found traces of highly enriched weapons-grade uranium on equipment at Iranian sites, a discovery ElBaradei has called the most troubling aspect of Tehran's nuclear activities.

Iran insists the traces, found in environmental samples, were inadvertently imported on equipment meant to generate electricity and says it does not know where the equipment originated because it was purchased through third parties.

If the IAEA decides Iran is developing nuclear weapons, it could ask for a review by the U.N. Security Council, which could impose sanctions on Tehran. The IAEA board of governors is scheduled to discuss the issue Nov. 20.

Khamenei said Iran will not back down on seeking nuclear technology for peaceful purposes and vowed the country will eventually produce fuel for its future nuclear reactors so it does not have to rely on other countries for the material.