Nineteen die in second worst day for US in Iraq
( 2003-11-03 09:32) (Agencies)
Nineteen Americans died in guerrilla attacks in Iraq on Sunday, including 16 soldiers killed when a helicopter was downed in the deadliest single strike on U.S. forces since they invaded to oust Saddam Hussein.
It was the second deadliest day overall for Americans in Iraq since the war started on March 20, after 28 soldiers were killed in various attacks on March 23. A total of 252 U.S. soldiers have died from hostile fire since the invasion.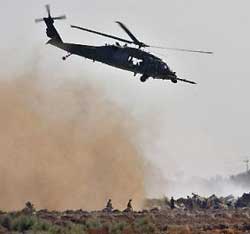 A U.S. Army helicopter flies near the area after a U.S. Chinook helicopter, believed to be carrying dozens of soldiers to leaves abroad was struck by a missile and crashed west of Baghdad, near Fallujah, Sunday, Nov. 2, 2003, killing 16 soldiers and wounding 20 others, the U.S. command and witnesses reported. [AP]

On Sunday, one U.S. soldier was killed in a bomb attack in Baghdad and two American civilian contractors died in a roadside mine blast in the town of Fallujah, a fiercely anti-U.S. center 30 miles west of the capital.

The crippled Chinook helicopter carrying troops on their way for a rest break came down in farmland at 9 a.m. (1 a.m. EST) near the village of Baisa, south of Falluja. Another 21 soldiers aboard the Chinook were injured.

U.S. military officials and witnesses said the large transport helicopter was shot down. Other helicopters circled above the smoking wreckage and American troops rushed to secure the crash site.

Some Iraqis were jubilant. "The Americans are pigs. We will hold a celebration because this helicopter went down -- a big celebration," said wheat farmer Saadoun Jaralla near the crash site. "The Americans are enemies of mankind."

The triumphal post-war glow in which President Bush once taunted Iraqi militants by saying "bring them on" has faded to a grim determination against a resistance growing more deadly.

"It's getting worse, in the sense that, as today...We've seen a much more sophisticated use of improvised explosive devices against coalition forces," the top U.S. civil administrator in Iraq, Paul Bremer, said on CNN's "Late Edition" on Sunday.

ADMINISTRATION VOWS "NO RETREAT"

But the Bush administration vowed that it will not retreat, and Bush continues to cite his Iraq policy as an accomplishment despite accusations of a widening "credibility gap."

"Clearly it is a tragic day for Americans," Defense Secretary Donald Rumsfeld told ABC television. "In a long hard war we are going to have tragic days."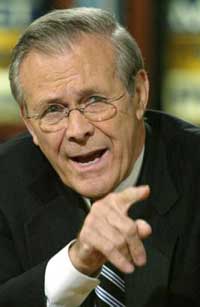 U.S. Secretary of Defense Donald Rumsfeld speaks on NBC's 'Meet the Press' during a taping at the NBC studios in Washington, Nov. 2, 2003. Rumsfeld talked about the current situation in Iraq and the latest attack on a U.S. Chinook helicopter outside Fallujah that killed 16 soldiers. [Reuters]

But he said the United States would not be deterred and would win the war in Iraq.

White House spokesman Trent Duffy told reporters on Sunday at Bush's Texas ranch: "The terrorists seek to kill coalition forces and innocent Iraqis because they want us to run, but our will and our resolve are unshakable."

Bush vowed on Saturday to stand firm and said leaving Iraq prematurely would strengthen the "terrorists" he blamed for recent suicide bombings. But he had no comment after the downing of the helicopter a day later.

Rumsfeld said on Sunday: "I think the American people have a good center of gravity. I think they get it. They would rather have us fighting terrorists outside the United States of America than inside."

A U.S. spokesman said two Chinooks had been heading for Baghdad airport when one was "shot down by an unknown weapon."

A witness, Dawoud Suleiman, said: "There were two American helicopters. They fired a missile at one and missed, and then they hit the other, which crashed and caught fire."

Some U.S. officials questioned why the helicopters had been flying through such a dangerous area.

U.S. LONG FEARED MISSILE HIT

The U.S.-led administration has long feared that a shoulder-fired missile could bring down an aircraft approaching Baghdad airport, and officials say this is one reason for the delay in opening the airport to civilian traffic.

Earlier this year, U.S. troops based west of Baghdad offered a $500 bounty for every shoulder-fired missile handed in.

The helicopter attack brought to 138 the number of U.S. soldiers who have died in hostilities in Iraq in the past six months.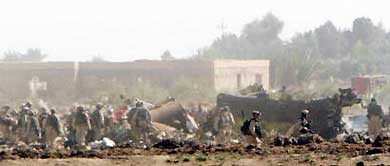 U.S. Army troops search a crash site where a Chinook helicopter crashed into a field near Falluja Nov. 2, 2003. [Reuters]

Guerrillas have killed 27 U.S. soldiers in an eight-day surge in violence that began with last Sunday's rocketing of a Baghdad hotel hosting Deputy Defense Secretary Paul Wolfowitz.

The next day 35 people died in four suicide attacks at the offices of the International Committee of the Red Cross (ICRC) and three police stations in the capital.

The attacks prompted the United Nations, the ICRC and other aid agencies to pull more foreign staff from Baghdad and review their operations, in a fresh blow to reconstruction efforts.

In Falluja, residents said a roadside bomb had hit a convoy of U.S. personnel in civilian vehicles. The two Americans who died were members of the U.S. Army Corps of Engineers.

Television pictures showed a gleeful youth wearing a U.S. Army helmet. Others danced on wreckage.

In Baquba, northeast of Baghdad, residents said a roadside bomb had exploded as a U.S. convoy passed, hitting a bus carrying university students and wounding two women.

IRAQ'S NEIGHBORS DISCUSS SECURITY

Iraq's six neighbors plus Egypt held security talks in Damascus, mindful of U.S. assertions that Syria and Iran were not doing enough to prevent militants crossing into Iraq.

In a statement, they condemned "terrorist" attacks on "civilians, humanitarian and religious institutions, embassies and international organizations" and vowed to cooperate with Iraqi authorities to "prevent any violation of borders."

Iraq's interim foreign minister, Hoshiyar Zebari, had turned down a belated invitation to attend.