Premier: United all of Asia will win
( 2003-11-03 09:08) (China Daily)
BOAO, Hainan Province: Leaders of Asian nations Sunday called for the development of a deeply integrated Asia as well as pushing for openness with the rest of the world.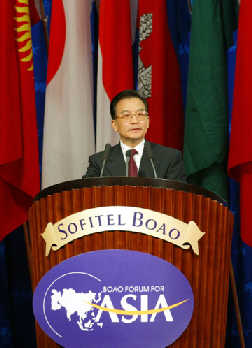 Premier Wen Jiabao delivers a speech at the second annual conference of Boao Forum for Asia in South China's Hainan Province November 2, 2003. Wen said that China's reform, opening-up and further economic development will surely bring more development opportunities and tangible benefits to other Asian countries. [newsphoto.com.cn]
"To create a win-win situation through closer co-operation and stronger efforts for development is the only way to make Asia's renewal possible," said Premier Wen Jiabao yesterday at the Second Annual Conference of Boao Forum for Asia.
In his key-note address, Wen encouraged all countries in the region to maintain peace and stability by cultivating "a new security concept" that features mutual trust, mutual benefit, equality and co-operation.
Besides Wen, Pakistan President Pervez Musharraf and Singapore Prime Minister Goh Chok-tong delivered key-note speeches at the opening session of the forum.
Besides highlighting regional integration, Wen emphasized that "Asia cannot rejuvenate in isolation from the world, while the world also needs Asia for prosperity and progress."
To achieve development, the region should open itself to the finest achievements of all civilizations and draw upon the successful experiences of development made by others, Wen said.
His views were echoed by Goh, who warned that "as Asia deepens regional integration, we must not turn inwards and keep others out."
If the three regions - or the possible free-trade areas of the Americas, the European Union and an Asian economic community - turn inwards, and each pursues an isolationist strategy, everyone will be a loser, said Goh.
Turning to China's relations with its regional neighbours in the region, Wen said that China's reforms, opening-up and further economic development will surely bring more opportunities for development and tangible benefits to others.
"One has every reason to believe that a dynamic, strong and prosperous China, a China that is dedicated to world peace and development, and a China that never seeks hegemony for itself, will make fresh contributions to Asia's rejuvenation and renewal," said Wen.
Goh said that as Asia emerges, there will be "many stresses and strains," while China will play a key role in the management of these strains.
Economically, China can help shape Asia's new economic architecture, said Goh.
"Indeed, China has welcomed other countries to share in its growth. By doing so, China will bring about a peaceful and prosperous Asia," Goh added.
After hearing Wen's speech, Secretary General of the Association of Southeast Asian Nations (ASEAN) Ong Keng-yong told reporters that the Chinese premier's remarks again assured ASEAN countries that China-ASEAN relations will be "stable and predictable".
Musharraf yesterday called for greater efforts to build an Asian consensus on regional development.
He said it is an urgent task to enhance comprehensive and integrated development, reinforcing Asian values, abating tensions and seeking peaceful resolutions of political disputes.
The forum is a non-official and non-profit international organization providing a platform for high-level talks on economic, social, environmental and other issues, according to a new constitution the organization passed on Saturday.
Other officials and experts delivering speeches at the plenary session included: Fidel V. Ramos, chairman of the Forum's Board of Directors, President of Tajikistan Emomali Rakhmonov, South Korean Deputy Prime Minister Kim Jin-pyo, Hong Kong Chief Executive Tung Chee-hwa and World Economic Forum President Klaus Schwab.
Concurrent sessions were held yesterday to explore issues like regional free-trade arrangements, Asian financial co-operation and IT industry, and the role and responsibility of the Asian media.