Guarding an 800-year-old giant
( 2003-11-03 08:53) (China Daily)
It's not the oldest tree in China, but the 800-year-old pine tree on Mt Huangshan (Yellow Mountains) in East China's Anhui Province is certainly the most celebrated in the nation - and perhaps the world.
The much photographed Pinus Hwangahanensis is not only a tourist attraction, but the only tree known to have a 24-hour "bodyguard service" which was started in 1983 and has involved 16 guardians.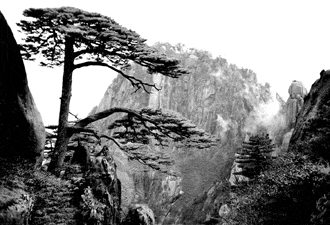 As if stretching to welcome visitors, the 800-year old Yingkesong at Jade Screen Peak shows off its nearly 14-metre crown at Mt Huangshan in East China's Anhui Province. [File photo]

Wang Henglai, an official of the administration of Huangshan, a UNESCO World Natural and Cultural Heritage site, deems the effort as "worth it," saying the pine tree "is so precious that we must ensure nothing bad, naturally or artificially, happens to her."

Known as Yingkesong or Guest Greeting Pine, the tree growing in the hard granite rocks at 1,680 metres above sea level at the Yellow Mountain's Jade Screen Peak stretches its nearly 14-metre crown like a man welcoming visitors with open arms.

Because of its unusual posture, the image of Yingkesong has been used to display Chinese people's hospitality since the 1950s, when China had diplomatic relations with only a handful of countries. A screen depicting the pine tree in the Great Hall of the People in Beijing has become a traditional backdrop for Chinese leaders to have pictures taken with visiting foreign guests. Among the most famous is a 1972 portrait of Premier Zhou Enlai with US President Richard Nixon.

That is why Shen Chengxiao, the pine tree's current and 16th guardian, regards Yingkesong, just over 10 metres tall, as much more than a spectacular landmark.

"It's a symbol of the country, and a treasure of the world," says the 26-year-old forest ranger, who lives in a tiny hut right beside the tree.

Shen was selected from over 60 rangers in the park, which covers an area of 154 square kilometres, to guard the tree day and night. He describes his mission as "making sure no one could ever bring any damage to it," and like his predecessors, he's been keeping a journal for the special tree.

Responsible job

Not every forest ranger suits the job, says Wang Henglai. The guardian of the pine tree "must be highly responsible and very smart." Indeed, Shen, a demobilized soldier, is as proud and alert as he would be safeguarding a national border.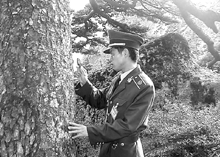 Shen Chengxiao, the 16th guardian of the Yingkesong pine, carefully observes changes on the trunk of the tree. [China Daily]

On an average day, Shen notes, 3,000 to 4,000 people make a pilgrimage to the tree. "I see to it no one does anything that may harm the growth of the tree, like trying to cross the fence and go near it out of curiosity, or attempting to smoke around it," he says. "You never know."

Several times a day he observes the movements of the pine tree's twigs, notes the colours of the bark and needles, and records the information. The observations also extend to nearby trees, for their diseases could affect Yingkesong, Shen explains. If he notices anything abnormal, such as darkened needles in a neighbouring pine, he reports it immediately and plant experts are dispatched to check the area for disease or insect pests.

In his diary on August 21 this year, Shen wrote: "Big storm last night. Wind of force 5-6. Got up at midnight, holding a lamp in the rain to watch Yingkesong closely for more than 20 minutes. The top branch swung back and forth, while the bottom twigs trembled hard. The storm however didn't harm the tree, thanks to the sustainable iron rope to protect it. Yingkesong looks greener and more vibrant this morning after a baptism of the rain. Stopped several tourists from smoking in front of the tree in daytime."

Shen says he has learned to tend the trees from plant experts and his predecessors. All the previous 15 guardians took care of the tree as if it was a baby.

Wang Henglai explains that the special bodyguard service was started in 1983 after a branch of the tree was found twisted by the pressure of heavy snow.

"The branch staunchly survived for several more years before it finally died," says Shen. "Since then an iron rope was installed to help adjust the strain the tree branches have to endure from nature." And the guardians have learned to alleviate such strain when necessary.

Qu Xinghui, Shen's immediate predecessor and Yingkesong's 15th guardian, once got up at 2:30 in the morning after a heavy snow. He noted in the diary dated December 20, 2001, that he swept off the snow on the branches then used a bamboo pole to break the ice on the needles. That night the temperature dropped to 16 C below zero, but Yingkesong looks fine."

Qu, Shen and all the other guardians are all admirers of Yingkesong and other pine trees around Mt Huangshan. "They are so special," says Shen. "They grow in extremely adverse conditions, enduring little soil, high altitude and harsh elements like strong winds and storms. But they manage to take root in hard rocks and survive miraculously."

What irritates the guardians most is the rumour that the Guest Greeting Pine people see at the Yellow Mountains is "fake."

"I've come across a number of tourists inquiring about its authenticity, and it's so annoying," says Shen.

For those who break the rules against smoking or trespassing, Shen says the forest rangers will stop them but impose no punishment or fine. "Our philosophy is to educate people," says the guardian who has finished a correspondence course on management.

Simple life

Life for the guardians of Yingkesong is by no means dramatic. "It's boring in a way," Shen Chengxiao admits, glancing at his hut equipped with a single bed and a bunkbed, a desk, and a TV set that can only pick up a local channel and a couple of China Central Television programmes.

Sharing the room with another two forest rangers, Shen normally goes to bed around 9:30 pm after finishing writing his diary. He is also learning to speak English from recordings. "I think English would be useful, which could enable me to talk about Yingkesong to foreign tourists."

Since he became the special pine tree's guardian in July, Shen, a native of Taiping Town 10 kilometres away from Mt Huangshan, has not had a chance for a home visit and he could not tell when he could see his mother.

"It's not because I don't miss home. But Yingkesong is like a baby who needs me to tend her," he said. Along with her 53 siblings of ancient pines and precious trees, Yingkesong is included on the World Natural Heritage List.