Future SARS details to come quickly
( 2003-11-03 07:53) (China Daily)
There are no SARS cases at the moment in China,and Chinese health officials are promising to publicly confirm any new cases as quickly as possible if they occur.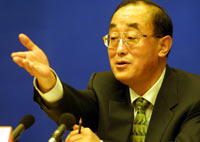 China's Executive Deputy Minister of Health Gao Qiang. [newsphoto.com.cn/file]

China's Executive Deputy Minister of Health Gao Qiang made that promise on Saturday in Beijing, speaking at a ceremony to mark the donation by Kodak of mobile medical equipment designed to assist rural Chinese.

"I cannot say SARS (the severe acute respiratory syndrome) will definitely return, neither can I say SARS will definitely not return, because there are still many things about SARS that we don't know," Gao said in response to a reporter's question on whether the coming winter could affect SARS' progression.

"The Chinese Government has intensified measures to prevent and control the disease. Even if SARS returns, a scenario like what happened in China earlier this year will definitely not occur," Gao said.

Government agencies at various levels across the country have completed detailed plans to combat SARS, and in some places have conducted field exercises to handle SARS-related emergencies.

"We have set up a relatively complete epidemic-reporting systems by connecting computer networks through State epidemic-surveillance institutions at the county level," Gao said.

And the ministry has intensified training of health workers, improved technical guidelines and enhanced scientific research for SARS prevention and control.

"The health sector is endeavoring to secure a safe environment for life, study and work for the public," Gao said.

He also thanked foreign enterprises and companies, including Kodak, for offering to help China in its fight against SARS.

Kodak on Saturday donated three mobile clinics to the health ministry to help China improve its medical service for people in remote provinces.