S.Korea sees prospects to end North nuclear crisis
( 2003-10-31 16:53) (Agencies)
The North Korean nuclear crisis could soon be peacefully resolved following Pyongyang's agreement to new talks with the United States and its allies, South Korea's foreign minister said on Friday.
"This greatly enhances the prospects for a diplomatic resolution of the nuclear issue," Yoon Young-kwan said in a speech to diplomats and scholars at a forum on South Korea's Cheju island.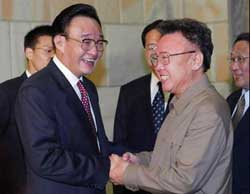 Visiting National Congress Chairman Wu Bangguo, left, shakes hands with North Korean leader Kim Jong Il during their meeting in Pyongyang, Oct 30, 2003. [AP]

North Korean leader Kim Jong-il and Wu Bangguo, head of China's parliament agreed in principle in Pyongyang on Thursday to hold a new round of six-way nuclear talks, Chinese television said.

The North's KCNA news agency said North Korea had told Wu's delegation it was willing to hold further nuclear talks if the negotiations would lead to a package solution, in which it gives up its nuclear plans in exchange for some sort of security guarantee from the United States and its allies.

Yoon said Wu's trip to the North Korean capital followed a welcome series of positive developments in the year-old nuclear impasse.

Yoon acknowledged that there was skepticism about the North's reliability in negotiations and its willingness to disarm, but said he believed a multilateral offer could succeed.

"If the ongoing talks can come up with a comprehensive solution dealing with security, economic and diplomatic dimensions, North Korea will feel secure enough to give up its nuclear ambitions," Yoon said.

Earlier, South Korean President Roh Moo-hyun, speaking at the same Cheju Peace Forum, voiced optimism at the recent turn in the nuclear crisis, following U.S. President Bush's offer to extend North Korea a written security guarantee and Pyongyang's expressed willingness to examine the proposal.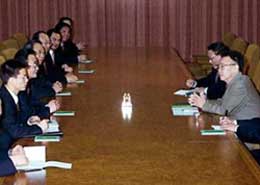 China's National Congress Chairman Wu Bangguo (3rd L) meets with North Korean leader Kim Jong-il in Pyongyang, October 30, 2003. [Reuters]

"I believe that a new round of six-way talks will probably resume soon," Roh said.

UNDER PRESSURE

China hosted an inconclusive round of talks in August with North Korea, the United States, South Korea, Japan and Russia to try to end the standoff.

Yoon said the North would now be under pressure to come to a deal.

"If North Korea attempted to deceive the world again after reaching an agreement at the six-party talks, the entire international community, not to mention the participants of the talks, will turn their back on North Korea," he said.

North Korea had promised in a 1994 bilateral agreement with the United States to scrap its nuclear arms program. But last year Pyongyang admitted to Washington that it had a different, clandestine program to enable it to build an atomic bomb.

Donald Gregg, president of the New York-based Korea Society and a former U.S. ambassador to South Korea, said the six-party talks had a greater chance of succeeding because they gave North Korea less chance to play countries off against each other.

"The six-party talks force the North Koreans to say the same things to five parties simultaneously. This cuts down their wiggle room," Gregg told reporters in Cheju.