Bloodshed drives more aid workers out of Iraq
( 2003-10-31 08:57) (ABC)
Insurgents blasted a freight train west of Baghdad and exploded a bomb near a convoy in a northern city, injuring a U.S. soldier, on Thursday as international organizations continued their exodus from Iraq.
In Saddam Hussein's hometown of Tikrit, U.S. soldiers also raided six houses after receiving "reliable intelligence" that the inhabitants were helping to establish a "new terrorist network there and planning terrorist attacks against coalition forces," a military spokesman said.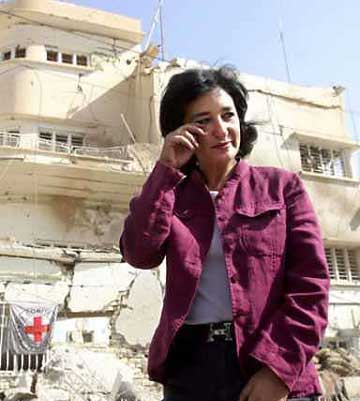 International Committee of the Red Cross spokeswoman Nada Doumani briefs reporters outside the agency's shattered Baghdad headquarters, Oct. 30, 2003. [Reuters]

The freight train was carrying military supplies near Fallujah west of Baghdad, when an improvised bomb set four containers ablaze. No casualties were reported, but the attack sparked a frenzy of looting by Iraqis who carried off computers, tents, bottled water and other supplies. A soldier from the 2nd Brigade of the 101st Airborne Division was slightly wounded early Thursday when a bomb exploded near a U.S. convoy in the northern city of Mosul, the military said.

The United Nations said Wednesday it was temporarily pulling its remaining international staff out of Baghdad, joining other organizations in withdrawing after Monday's deadly suicide car bombing at the Baghdad headquarters of the Red Cross.

The International Committee of the Red Cross and Medecins Sans Frontieres, or Doctors Without Borders, said they too were pulling their workers out of Baghdad.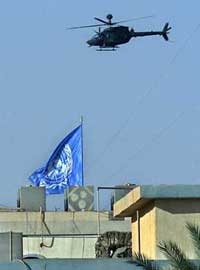 The United Nations is temporarily withdrawing its international staff from Baghdad to consult on the security situation in the Iraqi capital, a spokeswoman said on Oct. 30, 2003. [Reuters/File]

"We have asked our staff in Baghdad to come out temporarily for consultations with a team from headquarters on the future of our operations, in particular security arrangements that we would need to take to operate in Iraq," U.N. spokeswoman Marie Okabe said.

She said it was not an "evacuation" and staff in the north would remain.

Okabe declined to give more details but about 60 U.N. staff members were believed to be in Iraq, including some 20 in Baghdad, after Secretary-General Kofi Annan ordered most others out in late September.

The United Nations scaled down its staff following the Aug. 19 truck bombing at its Baghdad headquarters that killed 23 people, including the top U.N. envoy to Iraq, Sergio Vieira de Mello, and a smaller blast near the U.N. offices last month.

The Red Cross said it would remain in Iraq but would scale back the number of international staff now numbering about 30 and increase security for those who stay. The agency has 600 Iraqi employees.

The Red Cross withdrawal came despite a personal appeal by Secretary of State Colin Powell to remain in Baghdad because "if they are driven out, then the terrorists win."

The withdrawals came despite assurances by top U.S. administration officials, including President Bush, that the security situation in Iraq was steadily improving.

Asked on Thursday about U.S. pleas for the ICRC to stay put, the organization's Baghdad spokeswoman Nada Doumani said: "The ICRC will take its decision independently as it always had."

U.S. forces are suffering an average of 33 attacks a day up from about 12 daily attacks in July. A total of 117 American soldiers have been killed in combat since May 1 when Bush declared an end to major fighting or slightly more than the 114 soldiers who died in invasion that began March 20.

The U.S.-appointed Iraqi Governing Council, meanwhile, claimed that "a number of those" who have committed "terrorist acts" here had entered Iraq "across the borders from neighboring countries." The comment echoed recent statements by the U.S. administration.

The council called on neighboring nations to crack down on infiltrators crossing into Iraq across their borders and to provide Iraqi authorities with information about former regime figures who may be hiding on their soil.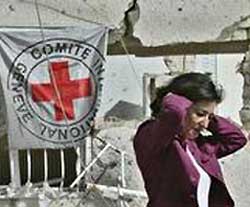 International Committee of the Red Cross spokeswoman Nada Doumani briefs reporters outside the agency's shattered Baghdad headquarters, Oct. 30, 2003. [Reuters]

"Our investigations and inquiries have revealed that a number of those who have executed the terrorist acts in Iraq have entered the country across the borders from neighboring countries," Iraqi Foreign Minister Hoshyar Zebari said in a statement.

The escalating violence has unnerved many of Baghdad's 5 million people, particularly parents, many of whom are not sending their children to school for fear of further bombings.

"Today most of my friends did not come to school," said 18-year-old Duha Khalid at the Al-Khalisa girl's high school, located near a police station. "We heard rumors about big bombs that will go off at the start of next week."

There also was an apparent assassination attempt Wednesday night against an aide to Iraq's most influential Shiite Muslim cleric, Grand Ayatollah Ali Hussein al-Sistani, spiritual leader of most of Iraq's Shiite majority.

Sistani's office in the city of Najaf said they had no details on the attack on the cleric in the nearby city of Karbala and would not give his name. The Baghdad newspaper al Zaman identified him as Abdel Mehdi al Karbali.

In the operation in Tikrit, U.S. soldiers detained four key suspects and took 10 others in for questioning, Lt. Col. Steve Russell told The Associated Press.

Coalition troops discovered false identification cards and multiple fake license plates with "official government stickers" in one of the houses, he said. "We continue to work against these cells, to disrupt, capture or kill them."

The area around Tikrit, about 120 miles north of Baghdad, has been the scene of increased attacks that U.S. troops blame on die-hard supporters of Saddam and members of the Fedayeen militia of the ousted leader.

Separately, Mohammed al-Jibouri, head of the State Oil Marketing Organization, said bad weather has delayed Iraq's crude exports from its southern oil terminal for the past three days.

Iraq, which used to sell about 2 million barrels a day before the war, is now exporting around 1.2 million barrels a day from its offshore Basra oil terminal in the Gulf.

The country has so far failed to resume exports from its northern oil fields because of a series of explosions and fires in a pipeline linking the fields to the port of Ceyhan in Turkey.

Associated Press correspondents Edith M. Lederer in New York, Tarek Al-Issawi in Fallujah, Katarina Kratovac in Tikrit and Mariam Fam in Mosul contributed to this report.