U.S. economy grows at best pace since 1984
( 2003-10-31 07:50) (Agencies)
The U.S. economy rocketed ahead at its fastest pace in nearly two decades in the third quarter as consumers, their wallets fattened by tax cuts, went on a buying spree, the government said on Thursday.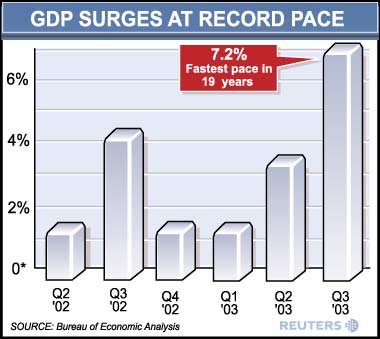 The U.S. economy rocketed ahead at its fastest pace in more than 19 years in the third quarter of 2003. U.S. gross domestic product surged at a 7.2 percent annual rate in the July-September period. It was the steepest climb since the first quarter of 1984 and more than double the second quarter's 3.3 percent rate. [Reuters]
U.S. gross domestic product surged at an unexpectedly strong 7.2 percent annual rate in the July-September period, a Commerce Department report showed.
The sizzling pace of growth -- reflecting not just a splurge by shoppers but a big step up in business spending -- was the briskest since the first quarter of 1984 and more than double the second quarter's 3.3 percent advance.
"This is a great report for the economy," said Cary Leahey, senior U.S. economist at Deutsche Bank Securities. "Not only was the headline strong, but the mix was good and it implied a good fourth quarter."
Three other reports on Thursday also suggested a firmer recovery was taking root -- new claims for jobless benefits and a help-wanted index suggested some stability in the labor market, while companies spent more on wages and benefits.
The jump in GDP handily beat forecasts on Wall Street, where economists had looked for a gain closer to 6 percent.
Stocks rallied briefly on the GDP data but closed little changed on the day. Bond prices fell as investors guessed the report brought nearer the day the Federal Reserve would raise interest rates from bargain-basement levels.
SHOP 'TIL YOU DROP
Consumer spending shot up at a rapid 6.6 percent pace as lower tax withholding on paychecks and child tax credit checks put more cash in shoppers' hands. It was the biggest gain since early 1988 and accounted for nearly two-thirds of GDP growth.
Economists expect growth to moderate from its recent break-neck pace as the boost from tax cuts fade, although most expect it to settle near a still-solid 4 percent rate in the current quarter and hold around that rate next year.
U.S. Congress passed a US$350 billion White House tax plan in the spring that lowered tax-withholding rates and pumped out about US$13.7 billion in child tax rebates in July and August.

"The tax relief we passed is working," U.S. President Bush told workers at the Central Aluminum Company in Columbus, Ohio. "We left more money in the hands of the American people, and the American people are moving this economy forward."
Democrats countered that the step up in growth had failed to create jobs. Despite the quickened pace of recovery, 41,000 jobs were lost in the third quarter, bringing the total number of jobs shed since Bush took office to 2.6 million.
But recent news has offered some encouraging signs.
A report by the U.S. Labor Department on Thursday showed the number of Americans filing initial jobless claims fell 5,000 last week to 386,000 -- the fourth straight week that claims were below the 400,000 mark, which economists consider a divide between an improving or deteriorating U.S. job market.
In addition, the number of help-wanted ads in major U.S. newspapers was unchanged in September, the Conference Board said. The research firm said the report suggested the beleaguered job market "may be at a turning point."
"It is nearly impossible to believe that the economy is not setting itself up for a break to the upside on job creation sometime during the first quarter of 2004," said Anthony Chan, chief economist at Bank One Investment Advisors.
SHOW OF STRENGTH
The GDP report showed business spending up at an 11.1 percent pace, the steepest climb since the first quarter of 2000 and the second straight quarterly advance.
A drop in capital spending led the economy into recession in early 2001, and analysts said signs of its revival offered reassurance the recovery would prove lasting.
Strong export growth also gave a boost to growth, as did spending on housing, which surged 20.4 percent, its the largest gain in over seven years.
One of the few drags on the economy was a reduction in business inventories, but economists said it suggested a need for restocking, which should bolster output in the weeks ahead.
The report also offered a sign inflation was starting to move up after a sharp slowdown earlier this year that fueled worry over the possibility of deflation. But with unemployment relatively high and much of industry still idle, economists said it was not yet time to worry about inflation surging.