Love Itself Holds A Marriage?
( 2003-10-30 11:52) (bjtoday.com)
It used to be that Chinese people couldn't get married without permission from their work units and without having had a health check prior to the ceremony. From October 1, this requirement has been scrapped, according to the new marriage registry regulation.
Just as people were getting used to the idea of China's controversial new marriage registration regulations, a special case in Sichuan Provine last week re-ignited the debate.
ast month, Zhou Xiaoyan, (pseudonym), 23, found out she was HIV-positive after taking the a compulsory marriage health check. Had the couple decided to register for marriage after October 1, she wouldn't have been known. Zhou thought she was in perfect health and admitted she wouldn't have had the health check if it wasn't compulsory. I never intended to cheat my husband, Zhou told Beijing Today on Wednesday. I certainly don't want to spread my disease to him. I was so relieved to hear he hadn't been infected by me. To the surprise of many people, news of Zhou's condition did not change the feelings of her fiance, Liang Chenghao (pseudonym), 35. The couple got married last Monday.
Zhou, who comes from a village in Quxian County, Sichuan Province, left her hometown after she graduated from a primary school. From then on, she made a living in Shenzhen. Zhou met Liang in 2001 when she was working as an assembly worker in Shenzhen. Liang, who is from Hong Kong, was also a worker in the same factory.
On September 22, after fulfilling some procedures at Sichuan Province Marriage Registration Office in Chengdu, Zhou and Liang went to the Jinjiang District Health Care Center for the pre-marital check-ups.
On September 23, Zhou received a telephone call from the Registration Office and was informed that she had been diagnosed with HIV.
I told her she should undergo a further medical eamination to test whether she had full-blown AIDS, told Fei Lihua, a staff member from the office toldBeijing Today.
According to regulations on HIV carriers and AIDS patients issued by the Ministry of Health in 1998, AIDS patients wishing to marry were urged to show extra caution and those infected with HIV should receive a further medical consultation before getting married.
Fei said that Zhou was startled and cried when she heard of her illness. She asked me to keep it secret and not tell her boyfriend. I promised, said Fei who still had to report the case to her boss. It sounded that she still wanted to marry LiangBut Zhou didn?t go to the heath care center for a further medical test in the following days.
I do
In the morning of October 9, Zhou and her boyfriend showed up at the Sichuan Province Marriage Registration Office again.
They walked hand in hand into our office and we recognized them at once, said Fei, She had told her boyfriend about her illness, said Fei. He looked quite calm. When I asked him whether he really wanted to marry Zhou, he thought for a few seconds and then said yes. Fei and her co-workers didn't know how to deal with the unusual application. Under the new marriage registration regulations, couples need only show their ID cards and residency papers and gn a document stating they are not already married. Zhou and Liang met all the demands. Li Liangdeng, deputy director of the Civil Administration Bureau of Sichuan Province, which is in charge of the marriage registration office, eventually permitted the application of a marriage license.
To be frank, I was very hesitant. We've never encountered such an unusual application for marriage before, Li told Beijing Today on Wednesday. But how could we refuse. Liang entirely understands the illness and still insisted on his decision. The couple got the marriage certificates last Monday and Liang then flew to Hong Kong to prepare their new apartment.
Tianfu Daily said last Tuesday that many people don't understand the action of the couple, and many of them even accuse Zhou of being selish. We love each other deeply and we really want to have a family. I hope he will be healthy forever. We'll definitely take measures to avoid spreading my disease to him,? Zhou toBeijing Today.
New regulation questioned
Liu Jie, director of the law office of Sichuan Province Health Bureau, supports the couple's decision to get married. Marriage is a legal right for everybody, whether one side or both sides are infected, Liu ld Beijing Today on Tuesday. All our health departments can do is to provide them with medical advice and tell them how to avoid spreading the disease.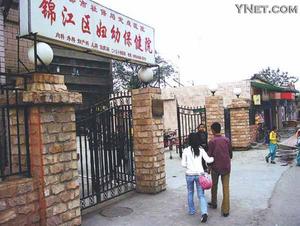 A couple visits the Jinjiang Health Center.

However, Li Shuangquan, deputy director of the Standing Committee of Sichuan Province People's Congress, has a completely different opinion. Nearly everyone knows that AIDS is a sexually trasmitted disease. How can an HIV carrier register for marriage, said Li. That's why I doubt the sense of the new marriage registration regulation. Why should the compulsory pre-marital health check be removed? If you hadn't had a check before marriage, she wouldn't have known about her illness. And she would definitely spread her disease to her husband. Li conceded the case was unusual but said it was a good example of why the compulsory pre-marital health check should be retained.

The new registration regulation makes the physical check-up a voluntary action. It is widely regarded as a move to simplify the marriage registration process and offer more personal choices. However, some critics have challenged the regulation, saying it conflicts with the Law on Mother and Infant Healthcare which stipulates that couples should undergo physical check-ups before getting married.

There is no legal problem as long as the two sides have full knowledge of each other?s condition and still insist on getting married, says Wu Changzhi, professor at China University of Political Scce and Law, a renowned expert in marriage law. This couple's marriage doesn't threaten the interests of society, he tBeijing Today.

When asked whether removing the compulsory pre-marital health check might lead to the spread of sexually transmitted disease, Wu stressed that she encourages new couples to take health checks before marriage. But the check shouldn't be a mandatory requirement. Wu pointed out that in the past several decades, the check has become just a formality or money-making procedure in some areas.

Wu hailed the deletion of the compulsory regulation as socially progressive and a significant step forward for human rights.