American postwar Iraq deaths surpass war casualties
( 2003-10-30 10:02) (Agencies)
U.S. military deaths from hostile fire in Iraq have reached a grim landmark with the post-war toll surpassing the number of troops killed during the invasion itself.
The military reported Wednesday the deaths of two more American soldiers when their tank ran over a bomb about 75 miles north of Baghdad Tuesday night.
The Pentagon said this brought to 117 the number of troops killed since U.S.President Bush declared major combat over on May 1. The toll surpassed the 115 killed during the actual war, which began on March 20 to topple Saddam Hussein.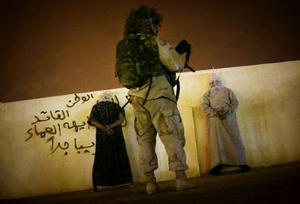 A U.S. soldier keeps an eye on detained Iraqis standing against the wall decorated with anti-occupation graffiti during a night raid in Tikrit, Oct. 30, 2003. Soldiers of U.S. Army's 4th Infantry Division (Task Forse Ironhorse) raided several houses in Tikrit looking for members of suspected terrorist cell planing attacks on coalition forces in Saddam Hussein's hometown. [Reuters]

In another example of the precarious security situation, the International Committee of the Red Cross, or ICRC, said it would pull some foreign staff out of Iraq following Monday's suicide bombings targeting its Baghdad base and three police stations.

The milestone in military casualties -- no reliable figures are available for the many more Iraqis killed in the conflict -- illustrates the scale of the resistance U.S. forces have encountered since bursting into Iraq more than seven months ago.

The two soldiers killed late Tuesday were from the 4th Infantry Division. Another soldier was wounded in the attack.

"We're still in a war," said Col. William Darley, a U.S. military spokesman in Baghdad. He said many of those attacking U.S. troops had been members of Saddam's security forces.

"A lot of these enemies faded out into the populace and we believe that it is a large part of those that make up our current opponent. So, is it a dangerous phase of the war? Of course it is," Darley told reporters.

U.S. military officers have said, however, they believe foreign extremists rather than Iraqis carried out Monday's suicide bombings that killed 35 people and wounded 230, the bloodiest day in Baghdad since the war ended.

RED CROSS VOWS WORK WILL GO ON

The traditionally neutral ICRC said in Geneva it would continue its work in Iraq, where it has about 30 foreign and some 600 local staff, but it would review its methods of operation to better protect employees.

"We are reducing the number of international staffers and implementing additional measures to increase security for our remaining staff," said Pierre Krahenbuhl, the Swiss-based humanitarian organization's director of operations.

Medical charity Medecins Sans Frontieres said Wednesday it had decided to pull out four of its seven expatriate staff in Iraq following the Red Cross attack.

"The other three will stay for the time being to sort out how to continue our programs in the best way," Marc Joolens, MSF's Iraq operations coordinator, told Reuters.

Those fighting the U.S.-led occupation seem determined to spread chaos, foil reconstruction and punish foreigners and Iraqis seen as linked to the Americans.

Three land mine blasts Tuesday wounded seven Ukrainian soldiers, part of a Polish-led multinational division operating south of Baghdad. A Ukraine Defense Ministry spokesman said two armored vehicles had hit the mines during a night patrol.

A car bomber targeted a police station in Falluja, west of the capital, also Tuesday, killing at least four people.

Sunday, attackers rocketed a fortress-like hotel where U.S. Deputy Defense Secretary Paul Wolfowitz was staying, killing a U.S. soldier. Baghdad's deputy mayor was killed in a drive-by shooting on the same day.

OCCUPATION BLAMED

Many Iraqis say it is the U.S. occupation that has fueled nationalist resistance and attracted foreign militants keen to wage a jihad, or holy war, against American troops.

Baghdad University political science professor Saad Jawad said Saddam had cracked down hard on any suspected Islamic militants.

"The U.S.-UK invasion opened our doors wide for anyone to enter Iraq," said Jawad, no supporter of Saddam.

Bush, seeking re-election next year amid criticism of his Iraq policies from some quarters, said Tuesday he expected Syria and Iran to enforce border controls to stop infiltrators.

Syria Wednesday condemned the Red Cross bombing as a terrorist act that damaged the interests of the Iraqi people.

Iraq's U.S.-backed Governing Council said Foreign Minister Hoshiyar Zebari would travel to Syria next week to discuss border security with representatives of six neighboring states.

Abdul Aziz al-Hakim, a council member, also accused U.S. forces of making mistakes in security decisions, such as deploying soldiers from armored combat units to police cities.

"It's wrong that a soldier trained on a tank is assigned a task for which is he is unqualified -- the task of providing security in an urban area," the Shi'ite Muslim leader said.

Iraq's U.S.-led administration said it agreed with the council that security should be in Iraqi hands as much as possible. It was working hard to train Iraqi police but fully establishing a new police force took time, a spokesman said.

"What we're trying to do is create a completely new institution in this country in many ways," the spokesman said.