Bush: US stands firm on one-China policy
( 2003-10-20 14:44) (China Daily)
US President George W. Bush indicated the United States will not change its policy on Taiwan and will stick to backing the one-China policy in opposing independence for Taiwan, President Hu Jintao told reporters yesterday after a meeting with Bush.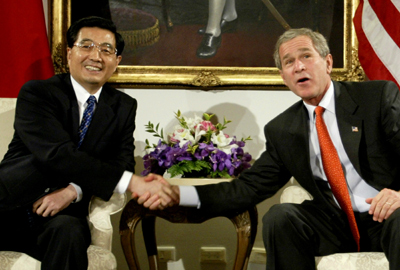 Hu said the US president gave such assurances when the two leaders met before the annual Asian-Pacific Economic Co-operation (APEC) meeting in Bangkok, Thailand.
On the DPRK crisis, Bush said the United States highly appreciates China's positive role in pushing for a peaceful resolution of the issue and supports the Beijing talks process.
"We talked about how to advance the Beijing talks, how to achieve our mutual goal, which is a weapons free peninsula, as well as addressing the security concerns of North Korea within the context of the six-party talks,'' Bush said when jointly meeting with the press after he and Hu held talks.
Hu told Bush that China appreciates the US repeating its commitment to solve the nuclear issue through continuing peaceful dialogue. He added that China is willing to step up consultation and co-operation with all parties.