Mainland seeks Taiwan help on info of smugglers
( 2003-09-12 07:13) (China Daily)
ARATS, the quasi-official organization in charge of cross-Straits affairs on the mainland, wrote to its Taiwanese counterpart Thursday, demanding help in collecting information about the human smugglers arrested on the mainland and about the 20 women stowaways rescued by island authorities.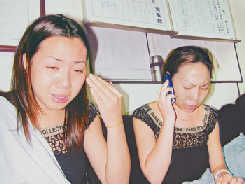 Two Chinese mainland stowaways weep after being arrested by the Taiwan Coast Guard at Taichung harbour August 26, 2003. At least six illegal mainland immigrants drowned at sea off Taiwan after human smugglers threw them and 15 others overboard to lighten their load so they could speed away from authorities. [HK Edition]

It is the third time that the Association for Relations Across the Taiwan Straits (ARATS) has written to the Straits Exchange Foundation (SEF) since August 26, when 26 mainland women were dumped overboard by people smugglers on the island's west coast, said a anonymous ARATS official.

The incident killed six , the other 20 women were later rescued and two were injured.

Since then relevant departments on the mainland have launched an intensive investigation, said the official.

The Ministry of Public Security, the Red Cross Association of China and the Frontier Bureau in East China's Fujian Province have done tremendous and painstaking work, she added.

By August 29, 18 snakehead suspects, including four Taiwanese, were arrested on the mainland, the official said.

In a two-page letter to SEF yesterday, ARATS also included general information about the four Taiwanese suspects, such as their names, addresses and mobile phone numbers.

It demands that Taiwan authorities provide relevant information about the suspects and information about the five snakeheads suspects arrested on the island.

In addition, it also asks for the Taiwan side to provide detailed information on how the rescued women got on the smugglers' boat.

As of press time, there had been no response from SEF, according to the official.

The official stressed that the mainland always attaches great importance to protecting the legitimate interests of compatriots on both sides of the Straits as well to cracking down on all criminal activities that infringe on the rights of the people.

On August 29 and September 10, ARATS wrote twice to SEF for help with information about the suspects and the smuggling case.

ARATS and SEF are the two quasi-official organizations in charge of cross-Straits ties in the absence of any official links between Beijing and Taipei.

Hundreds of mainland women are attracted to Taiwan every year by the promise of high-paying jobs, but most of them ended up in prostitution.

Statistics indicate that in the first eight months of this year, 1,231 mainlanders smuggled to the island, including 914 women, were sent back to the mainland, in eight groups.

At the same time, a total of 13 illegal Taiwanese immigrants were sent back to the island.