Profile of Menk Bateer 巴特尔
( 2003-08-08 17:02)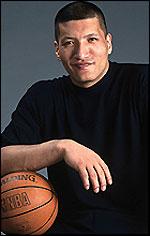 Menk Bateer 巴特尔
Club: Torento Raptors, NBA
Height: 211 cm / 6-11
Weight: 131 kg / 290 lbs
Birthplace: Inner Mongolia
Position: Center
Born in China's Inner Mongolia Autonomous Region on November 20, 1975, Menk Bateer began formal basketball training in 1986.
In 1988, Bateer was elected into the Beijing youth team and four years later the 17-year-old was promoted to the Chinese National Junior Team. Playing center, Bateer and his team participated in the Asian Basketball Confederation (ABC) Junior Championships in 1992 and won the title.
Bateer's first national team appearance occurred at the 1993 ABC Championship when he was only 18. The following year Bateer and his team enjoyed victories at the 12th Asian Games, the ABC Champions in 1995 and the 1998 Asian Games. Bateer also represented China in two Olympic Games in Atlanta in 1996 and Sydney in 2000.
When China launched its CBA league in 1996 -- the equivalent to the NBA of the United States, Bateer played center in the Beijing Shougang Duck where he experienced his peak in China: he was added to the league's all-star lineup.
In 2002 Bateer finally accessed the NBA by signing with the Denver Nuggets as a free agent. He was picked up by the Detroit Pistons later that year before finally resettling in San Antonio where he became the first Chinese to share the NBA champions ring.