Cross-Straits marine route resumes
( 2003-07-18 16:37) (Xinhua)
Service on the marine route from Xiamen, a port city of east China's Fujian Province, to Kinmen Island of Taiwan, which was suspended during the severe acute respiratory syndrome (SARS) outbreak on May 19, was resumed Friday morning.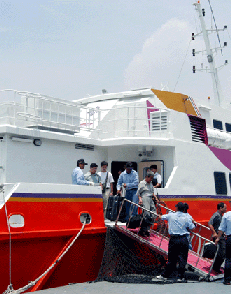 Taiwanese passengers disembark the ¡°Oriental Star¡± after arriving at Xiamen. [newsphoto.com.cn]

The New Jimei liner, with 145 passengers aboard, left the PeaceDock in Xiamen for Jinmen around 10:30 a.m. Friday.

Six ferry operations will ply the route Friday, of which four will be operated by two ships from Xiamen.

There will be 285 passengers going to Taiwan from Xiamen via Jinmen and another 318 people coming the other way on Friday, saidsources from the Xiamen Frontier Checkpoint.

Ferry services will be available every Tuesday, Friday and Sunday from July 18 to 31 and starting from August operations willbe expanded to cover Monday, Wednesday, Friday and Sunday, said local sources.

The distance between Xiamen and Jinmen is 18 nautical miles, a two-hour voyage.