Pharmaceutical companies seek global solutions
Updated: 2012-10-09 08:02
By Liu Jie (China Daily)
| | | | | | | | | |
| --- | --- | --- | --- | --- | --- | --- | --- | --- |
|   | | Print | | Mail | | Large Medium  Small | 分享按钮 | 0 |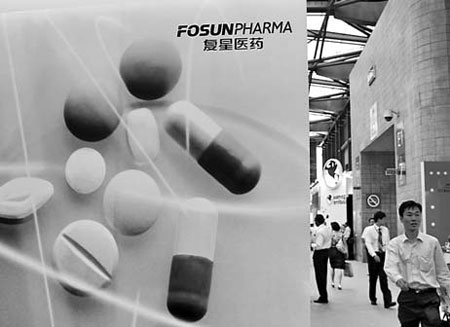 A Shanghai Fosun Pharmaceutical (Group) Co Ltd display at a medical exhibition. The company has decided to expand in foreign markets by setting up plants overseas. Jing Wei / for China Daily

Thierry Bernard doesn't need to be convinced of the quality of China's healthcare industry.
But the vice-president of commercial operations, worldwide sales, marketing and customer service at the French company bioMerieux, says there is still widespread bias against Chinese firms, among some in the industry.
After 20 years in China, Bernard's firm, a worldwide group specializing in vitro diagnostics for medical and industrial applications, set up a joint venture with Shanghai Kehua Bio-engineering Co Ltd, a major Chinese diagnostic company, in 2007.
It also acquired the fast-detection equipment producer Meikang Biotechnology (Shanghai) Co Ltd in 2010.
The French firm, which boasts a network covering more than 150 nations and regions, has since been helping its Chinese partners sell their products and promote their technologies around the world.
As far as Bernard is concerned, such joint venture agreements with Chinese companies are mutually beneficial, in their efforts to expand their international market.
China has now become bioMerieux's third-largest market by sales, only after France and the United States. Its annual growth now increasing between 20 percent and 25 percent, compared with the company's global growth of 5 percent to 6 percent.
"The Chinese companies don't need our money. They have plenty of cash. But we certainly need their experience in the local market, and their knowledge of emerging markets", he says.
"But there is still a bias against Chinese companies by some US and European counterparts, which still doubt the merits of forming mergers with, or making acquisitions of, companies here."
Bernard adds that China's leading healthcare companies compete well in three areas, in what is a highly competitive worldwide industry: on price, on creativity and on their ability to produce products that are easy to make and highly efficient.
Despite the international bias suggested by Bernard, the list of Chinese companies looking to increase their international presence is becoming longer, whether they want to set up manufacturing plants overseas, list on foreign stock exchanges, or establish joint ventures with multinational partners.
One such company is BGI (Beijing Genomics Institute)Shenzhen.
On Sept 17, it announced plans to acquire Complete Genomics Inc, a US-based leader in whole human genomic sequencing, for $117.6 million.
Whole human genome sequencing is used by research centers to conduct medical research that in the future is expected to be used by doctors and hospitals to improve both prevention and treatment of various types of disease.
BGI-Shenzhen operates international genome sequencing centers, which support genetic research into agriculture, animals and humans.
It is hoped that the combination of the two companies will result in an operation that brings together complementary scientific and technological expertise and research and development capabilities.
One local press report in the US suggested recently, "the acquisition could be read as a signal to the world that China is determined to be a major competitor in the future genome sequencing market".
Ben Sim, a spokesperson for BGI-Shenzhen, says Complete will concentrate on medical research in an ambitious effort to speed up clinical trials and advance the era of personalized medicine, while BGI-Shenzhen's businesses are broader, and the government has approved it to do clinical research domestically.
The deal appears to be a perfect example of international cooperation that benefits both sides, according to Bruce Liu, a partner, and head of the medical care unit, at Roland Berger Strategy Consultants.
He says overseas M&As by Chinese companies are ideally aimed at expansion of product portfolios, the marrying of complementary technologies, and the best use of foreign resources, such as knowledge and distribution networks in local markets.
But he says that some Chinese companies have chosen other avenues for international expansion.
The Shanghai biopharmaceutical enterprise Fosun Pharmaceutical Group Co Ltd, for example, has chosen to take the more conventional route of organic expansion in a foreign market, he says.
In July, it set up a plant in Cote d'Ivoire, aiming to cover 17 nations and regions across the western side of the African continent.
In late August, it received a five-year, 300-million-yuan ($47.2 million) loan from International Financing Corp for its overseas ambitions.
Liu explains that Fosun's main product in Africa is Artemisinin, a new anti-malarial drug, extracted from a traditional herb grown locally.
"Establishing a production base in Africa means getting close to the raw materials it needs to produce the drugs, and the patients it needs to treat," he said.
However, different from the Fosun example, many Chinese companies believe cooperation with foreign counterparts is the safer and easier way to explore an international market.
Bernard says his company hopes to build more partnerships with local Chinese healthcare counterparts, to help it enter other foreign markets, aided by the French company's existing global sales network.
"It is very expensive to create new channels. But Chinese companies can take advantage of the network we have spent 40 years to set up," he says.
Amir Yaar, one of the leading financial entrepreneurs in Israel, also wants to help Chinese medical companies go abroad.
Last year Israeli set up China Israel Synergy Group, an international investment and cooperation advisory company whose aim is to promote investments between China and Israeli technology and innovation companies.
Working both in China and Israel, Yaar says: "I want to create a means for Chinese medical enterprises and Israeli high-tech companies to explore international markets."
He says his research shows that Chinese companies have huge advantages in their manufacturing capability, high-quality workforce, and wide clinical research base, while Israeli companies, especially some small and medium-sized ones, enjoy cutting edge research and development ability, and financial strength.
"By bringing Israeli technology, to be produced in China by local companies, we can help promote products, including pharmaceuticals and medical devices, to the international market.
"The combination will provide technological expertise at competitive prices," he said, adding that any profit will be used to fund further R&D by Israeli companies, and expand manufacturing activities within China.
"We are now undergoing administrative procedures in China and can officially open we hope, within months."
Another recent high-profile contract signing between Chinese and international partners involved Life Technologies Corp, the US-based global biotechnology leader, and Sino Biological Inc, the leading Chinese biotech company.
The two have agreed to a partnership for worldwide product distribution and development.
Life Technologies will distribute Sino's large portfolio of recombinant proteins, antibodies and other products using its global distribution channels in more than 160 nations and regions.
The two companies will also jointly develop new products, using various research and development assets to introduce innovative products more quickly.
In a statement, the firms said that by working with one another, the companies are well positioned to provide proteomics products to a global customer base, and as two of the leading life science brands in China, contribute to accelerating the expansion of the Chinese biotech industry.
The agreement is believed to be the first by a US-based company, aimed at helping its Chinese counterpart not only to sell products, but also build its brands globally.
Proteins and antibodies are the fundamental means employed by pharmaceutical researchers and academic scientists to aid the discovery of new therapeutic targets in the process of new drug development.
According to Gregory T. Lucier, chairman and CEO of Life Technologies, all the products involved - more than 6,000 human-derived proteins and antibodies - are to be sold under the brands of Sino Biological and Life Technologies.
"We will first sell Sino Biological's products in the United States, then expand to Europe and South America," said Lucier.
Bruce Liu said Chinese pharmaceutical companies have become well-known as excelling in treatments for cancer, cardiovascular disease and neurological illnesses, as well as the development of new drug delivery models, biopharmaceutical generics and biological engineering.
"Large companies engaged in these sectors already have strength to go abroad, especially to big developing markets, such as Brazil and Latin American nations," says Liu.
He adds that Fosun's entry into Africa, in particular, was helped by its being included on the United Nations' list of qualified manufacturers of malaria medicine for underdeveloped African nations and regions.
Meng Dongping, vice-president of the China Chamber of Commerce for Import & Export of Medicines & Health Products, adds: "Although, we have no specific statistics of how many Chinese drugmakers and medical device producers have managed successful overseas expansions, from our observations, the number has increased very fast in recent years.
"A large number have gone into developing markets, such as Southeast Asia and East Europe, but more and more are eyeing the mature Western market."
But Liu warns Chinese companies have to be "smart" when choosing a destination.
"Entry into underdeveloped and developing markets is faster and easier, but companies will face serious competition in terms of price and quantity," he said.
"Developed markets can also be more difficult and time-consuming, because of the high threshold set on technical standards, and long registration, approval and certification procedures.
"But if successful, they can prove a breakthrough for companies - a guarantee of fat profits and stable growth over a certain period of time.
"But they must make sure they carefully research local governmental regulations, industrial practices, consuming preferences and even labor quality."
Meng advises Chinese firms to go one step further and always consider employing professional consultancies, or getting advice from government departments, industrial associations and third-party consulting firms that might have a presence in any potential new market.
But above all, says Bernard of bioMerieux, when looking abroad, Chinese companies must check and make sure of the credentials of any potential partner.
"What they should always keep in mind is insisting on quality, quality and quality."
liujie@chinadaily.com.cn
(China Daily 10/09/2012 page13)