Works like a charm
Updated: 2012-07-25 08:07
By Cheng Yingqi (China Daily)
| | | | | | | | | |
| --- | --- | --- | --- | --- | --- | --- | --- | --- |
|   | | Print | | Mail | | Large Medium  Small | 分享按钮 | 0 |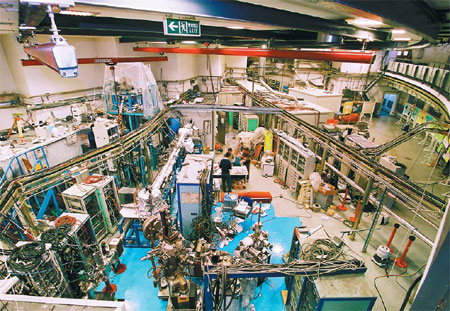 Scientists test devices at Beijing Synchrotron Radiation Facility, part of the Beijing Electron Positron Collider (BEPC) project, at the Institute of High Energy Physics in Beijing. Photos Provided to China Daily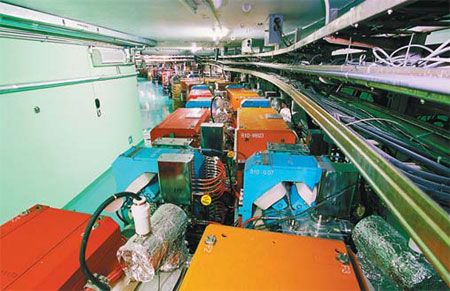 The storage ring at BEPC, in Beijing.
The Beijing Electron Positron Collider has been quietly leading research in charm physics for decades, reports Cheng Yingqi in Beijing.
The European Organization for Nuclear Research (CERN) recently announced the possibility that it had discovered the long sought-after Higgs boson.
Buried 100 meters underground and spanning the border between Switzerland and France, CERN's Large Hadron Collider (LHC) produces an energy concentration high enough to re-create the environment within 0.0000000001 second after the beginning of the universe.
Consisting of a 27-km-long accelerator chain, it is both the largest collider - and machine - on Earth.
China also planned to build a similar scale machine, but instead built a much smaller collider that is running under Beijing and has been contributing to physics research and education for decades.
The collider is housed at the Institute of High-Energy Physics, under the Chinese Academy of Sciences.
"LHC's maximum beam energy is about 3,000 times that of Beijing's collider," Zhang Chuang, a researcher with the institute, says.
The Beijing Electron Positron Collider (BEPC) has a circumference of 240 meters, and a maximum energy of 2.3 GeV, while the maximum energy of LHC is 7 TeV.
"Both GeV and TeV are very small units of energy. When one particle has energy as high as 7 TeV, its energy is equal to a mosquito beating its wings," Zhang says.
"But when you try to accelerate the protons to 7 TeV, it requires a huge machine that consumes a lot of power, and the total energy of 300 trillions protons for the LHC can be compared to that of a 40-ton train running at 150 km/h."
Zhang reveals that Chinese scientists had planned to build a collider like CERN's.
In 1972, 18 scientists wrote a letter to the late premier Zhou Enlai, urging the country to start its own high-energy physics studies.
Although it was during the "cultural revolution" (1966-76) when almost all scientific research was suspended, Zhou responded by saying it "cannot be delayed".
In the following year, the Institute of High Energy Physics was established and scientists started to design a 50 GeV proton synchrotron complex, which is when Zhang Chuang started work at the institute.
"In the late 1970s, when we designed the high energy accelerator, the 'cultural revolution' had just ended and everyone was overconfident about the country's economy," Zhang says.
The initial plan was to build a high-energy accelerator like CERN's, but this proved too expensive and the idea was shelved in 1980.
Then, China's former leader Deng Xiaoping allocated 240 million yuan ($37.5 million) in 1980 to build BEPC.
"It doesn't sound like a huge amount today, but in the early 1980s my monthly salary was only about 100 yuan," Zhang says.
When deciding to build BEPC, Deng explained that he wanted China to "have a place in high technology research".
But China's particle physics development is better than that.
"We are actually leading international research in the special energy region of BEPC - charm physics," Zhang says.
"BEPC is very unique," says Qian Jianming, a professor of physics at the University of Michigan.
"To pursue higher energy is one direction of research, but to pursue higher precision at lower energy levels is also important.
"Colliders at different energy levels can survey different particles, and the energy region of BEPC is rich in charm physics. BEPC has performed measurements with greater precision than any other collider in the world."
Elementary particle physicist Samuel Chao Chung Ting was awarded the Nobel Prize in 1976 for the discovery of the J-particle, which consists of a charm quark and an anti-charm quark, and is in the energy region of BEPC.
"The collider that led to Ting's discovery was closed after BEPC was built because of its lower luminosity, a measure of the particle event production rate," Zhang says.
China invested 640 million yuan to upgrade BEPC in 2009, and invests a further 90 million yuan every year on maintenance.
Cultivating talent is another benefit of the collider, Qian says.
"Undergraduate students can learn a lot from working on the collider, and they will find the skills very useful when they step out of university."
In May 2009, when BEPC started upgrading, a magazine published by Fermi National Accelerator Laboratory in the United States claimed that American scientists were flocking to BEPC to study charm quarks and their kin.
"Like migratory creatures, researchers circle the globe in search of the best data, working on one experiment for several years and then moving on to the next, all in the hope of answering fundamental questions about the way the world works China's accelerator offers just such an opportunity," the report says.
Contact the writer at chengyingqi@chinadaily.com.cn.
(China Daily 07/25/2012 page18)