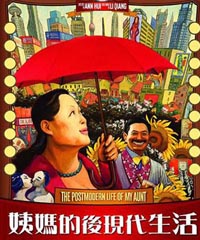 Director Hui says she is concerned whether audiences can accept the abrupt change in the last third of the story, "from spicy grotesquery to true-to-life details. The shock will be obvious, but it also brings the movie a philosophical flavor."
The script was written by Li Qiang, who made his reputation with the acclaimed art-house movie "Peacock," a Silver Bear winner at the 2005 Berlin International Film Festival.
Li said he was deeply attracted by Shanghai's vigorous and diversified culture. The movie uses locations such as the overpass at Shaanxi and Yan'an roads, and the old houses on Julu Road.
Li says the aunt can be "the 'Aunt' of all common people." Cultural differences didn't prevent this film from winning enormous popularity when it was shown at the Toronto International Film Festival last year.
The story of the "Aunt" has resonated in the hearts of many.
Director Hui, 60, known for her humanist cinema, including "Song of the Exile" and "July Rhapsody," is adept at showing delicate human emotions and relationships in modern society.
But her police film "Jade Goddess of Mercy" in 2004, just prior to the making of "The Postmodern Life of My Aunt," was considered a failure both commercially and critically.
"Li's amazing script helps my directing career, which started in the 1970s, embrace another prime, perhaps a new adventure," Hui says.
The sentimental original score is composed by Joe Hisaishi, well-known for his collaborations with renowned filmmakers Hayao Miyazaki and Kitano Takeshi in a few classics.
The movie is also a new collaboration between Chow and Hui, 21 years after "Love in a Fallen City" adapted from Eileen Chang's representative novel.
Chow said in an earlier interview that his passion for films based on real life was no less than his passion for martial arts epics.
Chow is now preparing for a leading role as general Zhou Yu in John Woo's US$S50 million historical drama "Battle of Red Cliff," adapted from the classic "Romance of Three Kingdoms."
Siqin will also play a strong-willed mother in a war film set in the 1930s and 40s.
"I love portraying a variety of characters," she says. "I will never stop 'modeling' persons. That is what a good actor should pursue throughout life, right?"