A Peking Opera fan in her 60s-a Shanghai woman of taste but hardly a woman of means - carries on a secret love affair with an amateur Peking Opera singer in the bittersweet "Postmodern Life of My Aunt." You know the rest.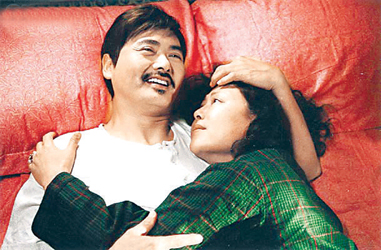 Siqin Gaowa (R) starring the Aunt and Chow (L) starring the amateur Peking Opera singer.[Photo by sina.com]
This 60-something Shanghai woman is far from a typical retired lady. A divorcee, she lives alone, takes pride in her painting, her English accent, and she adores Peking Opera. She also yearns for love and falls for an amateur Peking Opera singer.
"The Postmodern Life of My Aunt" tells a postmodern tale of an ordinary yet remarkable older woman on her own. She still has a passion for life, art and love, despite age and straitened circumstances. She believes in self-cultivation and romance.
The enjoyable, funny, bittersweet film is the latest by Hong Kong director Ann Hui, and began screening this week with English and Chinese subtitles.
It stars acclaimed mainland actress Siqin Gaowa as the aunt and famed Hong Kong actor Chow Yun-fat as her lover - both in dramatically different roles from those that made them famous. No dragon-lady, overpowering queen mother. No imperial figure or martial arts hero.
The film and the acting have received generally favorable reviews. Siqin speaks in imperfect but acceptable Shanghainese. Chow speaks Mandarin, not Shanghainese. Wearing costumes, they sing Peking Opera together. Chow's songs are dubbed.
Siqin, known for roles as powerful, dominant older women, now plays an ordinary woman (no name given) who lives alone in rather shabby circumstances and cares for her difficult, net-surfing nephew over the summer.
Chow, famed for playing major figures in historical dramas and action films, plays Pan Zhichang, a retired unemployed man, another Peking Opera fan - charming but scheming.
"The character I play is not simply a swindler," he says. "He has different facets to his character, a soft and romantic side as well."