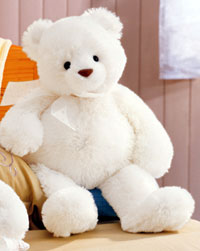 Your teddy bear
After Andersen's fairytales, do you remember the teddy bear-shaped cloud in Amelie Poulain's fantasy world? In the movie "Amelie" the teddy bear signifies her imagination.
At the real Teddy Bear Family, you start from scratch to make the teddy bear of your dreams. It's not the usual "make-your-own-bear" process you can find everywhere in the United States, where you choose your bear style, then it's machine-stuffed, you dress it, pay for it and go home.
Here you start from the very beginning, with a piece of cloth. Rather than getting an already made bear without stuffing, you will learn how to shape the head of the bear, the body, paws and legs, then sew them together. Rather than watching the bear being stuffed by machines, you will stuff your bear yourself, by hand.
Teddy Bear Family |
Opening hours: 10am-10pm
Address: 378 Shaanxi Rd S.
Cost: 200-300 yuan DIY
Tel: 2717-8345
Design your own denim jeans
Wu Kebo has been working on denim since he first frayed a pair of jeans more than six years ago. In the past few years he has learned the know-how of denim and become a specialist back in his hometown in south China's Guangdong Province.
Recently Wu and two friends moved to Shanghai and launched the city's first customized denim wash house at The Source for jeans, a new streetwear concept store on Xinle Road.
Wu uses Never Akin proletariat denim that he says is inspired by Eastern and Western aesthetics and constructed to be worn and weathered.
Each journey begins with a single step. Make an appointment and meet the denim specialists at The Source. Choose your ideal cut, fit and size from a range of unbleached basic styles of denim flown in to Shanghai directly from the United Kingdom.
Choose from a range of handcrafted effects for your ideal pair of jeans, including fraying, printed detailing, paint effects and abrasions. Wu and his co-workers will handicraft the denim to your specifications.
If you have more complicated requirements, such as special prints, embroideries, beads or sequins, or you want a special style you saw in a magazine or dreamed up the other day, don't hesitate to tell Wu. He promises every customer will leave the shop satisfied.
The price of customized denim jeans isn't high, ranging from from 800 yuan (US$101.3) to 1,000 yuan. It takes about 10 days.
The Source
Address: 158 Xinle Rd
Tel: 5404-3808