Xining - A local Red Cross official asked medical workers and rescuers not to swarm to quake-hit Yushu as enough people have been working there.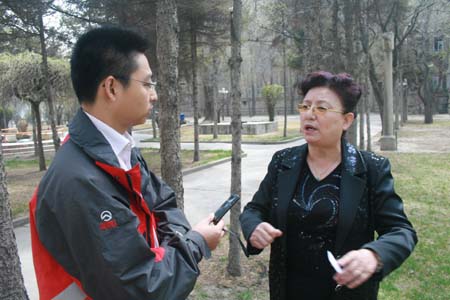 A China Daily reporter talks with Nima (R), vice-chairperson of Qinghai Red Cross on Sunday. [Zhang Jin/chinadaily.com.cn] 
Nima, vice-chairperson of Qinghai Red Cross on Sunday warns volunteers of harsh conditions in Yushu, where she just came from.
"The enthusiasm of these volunteers is laudable, but I am worried about their health," she told China Daily in Xining after she saw off a team from a southern Chinese region.
"It's almost sure they will endure altitude stress, more or less," said the Qinghai native, in her 50s.
Nima said it would take several days for outsiders to get used to high-altitude climate.
"Too many people working in a small county will only slow the relief work," she said.
About 1,000 rescuers and medical workers from places including Hubei, Sichuan, Yunnan, Guangxi and Xinjiang have rushed to Yushu in the past few days, Nima said.
But some rescuers suffered from altitude sickness were rushed from Yushu for treatment and recovery, Qhnews.com, a local news website, reported.