Military enthusiasts around the world were glued to their TV screens Thursday as some of China's most advanced aircraft and missiles passed before their eyes during the National Day Parade.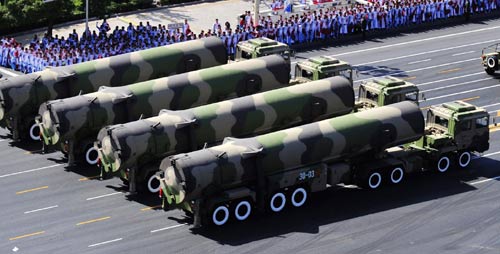 Intercontinental nuclear-capable missiles are displayed during the parade in celebration of the 60th anniversary of the founding of the People's Republic of China, in Beijing, October 1, 2009. [Xinhua] 
Weapons and Equipment
The rare revelation of the People's Liberation Army (PLA)'s most advanced weaponry was seen by many as another step on the road to transparency, showing both the army's strength and its intentions.
Full Coverage:


 60th Anniversary of PRC
Related readings:


 China's grander parade


 Spectacular parade sets records


 Grand parade shows the pride


 President Hu's car at the military parade


 Weapons and equipment are displayed in parade
"The move to put such a large amount of advanced weaponry on display before the world is a transparent way for the PLA to show its good intentions. There is no need to either downplay or exaggerate the army's capabilities," said Senior Colonel Yang Zhong, a PLA official from Lanzhou Military Area who watched the grand military parade from Tian'anmen.
A total of 56 phalanxes, with 8,000 servicemen and women, nearly 500 tanks, missiles and other military vehicles, along with 151 aircraft, participated in the military parade in the heart of Beijing.
All of the weapons on display were developed and made in China, including the country's most advanced airborne early warning and control aircraft, anti-ship missiles and multifunctional fighting vehicles.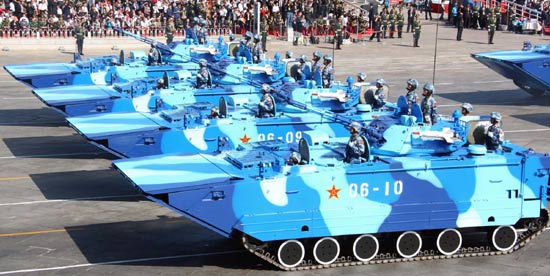 ZBD-05 amphibious assault tank (marines): The most advanced vehicle for China's marines. [Xinhua] Weapons and Equipment
"The display shows the PLA's weaponry and capability have reached a new height and will further transform in the future," said Major General Qiao Liang, a professor from the Air Force Command College. "Note that the most advanced weapons on display are mostly conventional ones with no strategic or aggressive purposes."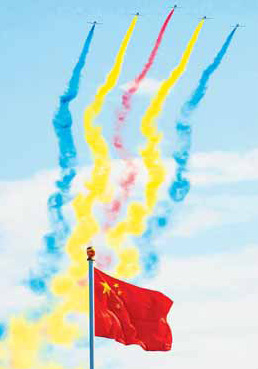 A squadron of training jets flown by female pilots color the sky as they roar over downtown Beijing Thursday during the National Day Parade. [Agencies]
Air Force Show
Last month, Defense Minister Liang Guanglie said the PLA had developed some of the world's elite weapons and obtained almost all types of weaponry possessed by Western countries.
The PLA's rapidly improving weaponry has worried some overseas analysts. Reuters quoted observers as saying the anti-ship missile Dongfeng 21C could force US aircraft carriers to navigate farther away from China's waters if models are developed into more powerful ballistic missiles.
Rear Admiral Yang Yi, a senior naval expert at the National Defense University, said the show of strength was designed to drive away threats.
"Even ballistic missiles are meant to protect China's maritime territory," he said.
Peng Guangqian, a Beijing-based senior military strategist, said the display of advanced weapons shows China's modernization, not its aggressiveness.
"It is the modernization of a peaceful force," he said.