CHANGCHUN: The car Chinese President Hu Jintao rode in while he inspected the troops at the 60th National Day in Beijing was made in northeast China. It grasped public attention with its debut on Thursday.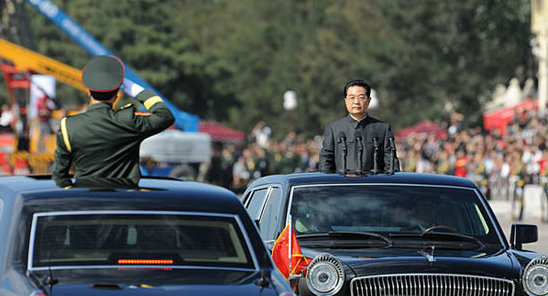 Hu Jintao, Chinese president and chairman of the Central Military Commission, inspects troops of the Chinese People's Liberation Army during a celebration to mark the 60th anniversary of the founding of the People's Republic of China, in central Beijing, October 1, 2009. [Xinhua]
The self-developed Hongqi HQE car by the First Automobile Works in Changchun (FAW), capital of Jilin province, is 6.4 meters long, 2.05 meters wide and 1.72 meters high, according to staff from the company.
Full Coverages:


Celebrating 60 Years

60 People, 60 Stories


PLA Parade
Related readings:


 Hu Jintao reviews Chinese troops (photos)


 Hu Jintao starts military review

 China reveals fewer troops, more armaments in celebration parade

Chinese features were evident in the design, said Guo Shijun, head of the Hongqi manufacture department of FAW.
"For instance, the radiator grille was in the shape of a Chinese folding fan, and the taillight was like an ancient palace lantern," he said.
New techniques were used in making the car.
"The noise of the engine was low, lower than nearly all the foreign and domestic engines. When the car was started, you could hardly feel the vibration," said Li Jun, director of the technical center of FAW.
For the first time bullet-proof technology was used in the Hongqi car. "We also borrowed some aerospace techniques," Guo Shijun said.
"In fact, the Hongqi HQE car is more than just a car," he said. "It represents the most advanced automobile manufacture technique, and the spirit of innovation and enterprising."