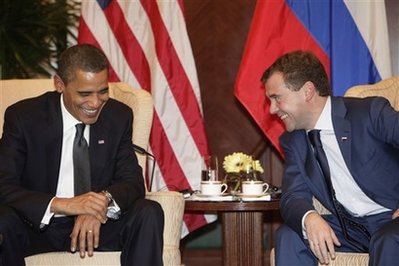 President Barack Obama meets with Russia's President Dmitry Medvedev on the sidelines of the APEC summit in Singapore, Sunday, Nov. 15, 2009. [Agencies]
SINGAPORE: President Barack Obama said Sunday the United States and Russia would have a replacement treaty on reducing nuclear arms ready for approval by year's end, an announcement designed as an upbeat ending to a summit with Asia-Pacific leaders.
While publicizing progress with Russia on arms control -- part of Obama's agenda to advance nuclear disarmament -- the president and other leaders bowed to the obvious on climate change. They discussed a compromise agreement for a 192-nation gathering next month in Copenhagen, indirectly admitting that the meeting would not produce a new global treaty to reduce the heat-trapping carbon emissions that are warming the planet.
Nearing the end of his two days in Singapore, Obama also attended a second summit with leaders of the 10 southeast Asian countries that make up the ASEAN group. Obama was the first US president to sit in on the meetings, that included a senior leader of Myanmar -- part of a shift in US policy away from isolating the Myanmar military government.
Full Coverage:


 17th APEC Leaders' Week
Related readings:


 In Asia, Obama pushing arms control with Russia

 Obama hails expanded US engagement in Asia


 Obama says US will join Asian free-trade area


 Russia needs modernization, says Medvedev in key speech


 Russia to finish army modernization next year
Obama and Russian President Dmitry Medvedev met on the sidelines of the Asia-Pacific summit of APEC nations to announced good progress in negotiations on an updated pact to replace the START nuclear arms agreement that expires on Dec. 5.
Sitting, gesturing and leaning toward his Russian counterpart, Obama said the pair discussed a successor to the 1991 Strategic Arms Reduction Treaty and described "excellent progress over the last several months."
"I'm confident that if we work hard and with a sense of urgency, we'll be able to get that done," Obama said, adding technical issues remain.
Medvedev said he hoped negotiators would "finalize the text of the document by December."
Obama and Medvedev agreed in April to reach a new nuclear arms reduction pact to replace and expand upon the one that was signed by former President George H.W. Bush and Soviet leader Michael Gorbachev.
During a July summit in Moscow, Obama and Medvedev further agreed to cut the number of nuclear warheads each nation possesses to between 1,500 and 1,675 within seven years.
US officials say the two nations now have agreed on the broad outlines of a new treaty, which could be signed during Obama's travels to Europe in early December to accept the Nobel Peace Prize.
It still was not clear if Obama would use that same trip to attend the Copenhagen climate summit, given that any agreement reached on cutting greenhouse gas emissions would serve only as an interim, political document.
"There was an assessment by the leaders that it is unrealistic to expect a full internationally, legally binding agreement could be negotiated between now and Copenhagen which starts in 22 days," said Michael Froman, Obama's deputy national security adviser for international economic matters.
The prime minister of Denmark, Lars Loekke Rasmussen, the UN-sponsored climate conference's chairman, flew overnight to Singapore to present a proposal shifting the goal of the meeting to a "politically binding" agreement, in hopes of breathing life into the struggling process.
A fully binding legal agreement would be left to a second meeting next year in Mexico City, Froman said.
Obama backed the approach, cautioning the group not to let the "perfect be the enemy of the good," Froman said.
A major bill dealing with energy and climate in the US Senate, a domestic priority of Obama's, is bogged down with scant hope of completion by next month. That would leave Obama little to show in Copenhagen.
During his Asia trip, which continued later Sunday to China, Obama also pushed for continued pressure on Iran and its nuclear program. Appearing with Medvedev, Obama said "we are now running out of time."
"Unfortunately, so far it appears Iran has been unable to say yes," to the proposal on uranium reprocessing, Obama said.
Medvedev continued: "We are prepared to work further and I hope our joint work will reach a positive result. In case we fail, other options remain on the table." He has said further sanctions against Iran were possible if it did not open its nuclear program to inspections to prove it was not trying to build a bomb.
The five permanent members of the UN Security Council -- the US, Britain, France, Russia and China -- along with Germany have engaged Iran on its nuclear program, most recently with a deal for it to ship enriched uranium to Russia for further processing as fuel for an aging reactor used for medical treatments.
The United States and its allies believe Iran is using it's nuclear program as a cover for building a bomb. Tehran says it only wants to build nuclear reactors to generate electricity.
Obama wrapped his official schedule in Singapore late Sunday afternoon by meeting with Indonesia's Susilo Bambang Yudhoyono, president of the world's largest Muslim nation and Obama's home as a boy. Obama said he was excited about the prospect of improving relations with Indonesia and repeated his plan to visit next year.
He said, however, the schedule would depend on his family; he wanted to plan a trip with "Michelle and the girls so they can take a look at some of my old haunts."