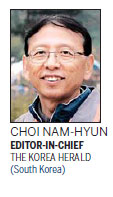 The Chinese media have made phenomenal progress over the years, a senior South Korean journalist has said.
"The change is all the more striking when compared with what it was like two decades ago," said Choi Nam-hyun, editor-in-chief of Korea Herald, South Korea's largest English-language newspaper.
It is "much easier to conduct interviews in China than before, with no restrictions imposed on travel now," he said in an e-mail interview with China Daily.
Foreign reporters earlier had to obtain permission to do interviews outside the Chinese cities they were based. That restriction was lifted ahead of the Olympics in 2008.
Also Chinese government departments, once media shy, now regularly release information through spokespersons, but "it is undeniable that the Chinese bureaucracy is more rigid" when it comes to interviews, compared with, for instance, Japanese officials.
Choi believes Chinese and South Korean media reports on each other more objectively than South Korean and Japanese media do about each other's countries, but nationalism sometimes hinders objective news coverage in China and South Korea.
Choi did not give an example of how nationalism affects news coverage, but in a case some years ago, Chinese and South Korean media debated passionately on whether South Korea's Dano Festival originated from China's Dragon Boat Festival.
In a recent case, some South Korean media reports claimed that Zhu Yuanzhang, the founding emperor of China's Ming Dynasty (1368-1644), may be of Korean descent. Chinese media, news websites in particular, fought back hard.
Choi believes "promoting mutual understanding is the best way to reduce such biases".