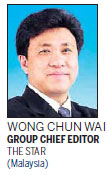 Wong Chun Wai believes media organizations have a dual role in addressing climate change and environmental protection: First reporting the issues; then internally, having supportive policies.
The group chief editor of The Star, Malaysia's biggest English-language newspaper, said that it was easy to make statements expressing concerns on the environment.
"But we ourselves must also practise and implement internal policies of our own," he said.
Wong, who is in Beijing to attend the ANN annual meeting and a forum on climate change, said it is vital for the media, as in any business, to do their part.
He said that in Malaysia, the issue of climate change is now squarely on the national agenda and is of concern not only to the government but also the private sector.
"We in the media are now devoting more space to climate change and other environmental issues and the response from our readers shows that the ordinary citizen is also prepared to do his or her part," he said.
The Star has recently appointed an environment editor, demonstrating its commitment to the issue.
"We have weekly coverage on the environment and once a month, we dedicate a pullout on the environment," he said.
Media companies must be involved in projects relating to the environment, and the once-a-year Earth Day is not sufficient, he added.
"We must have an environmentally-friendly culture within the company. Companies that have such a commitment fare well on the corporate responsibility agenda," he said. "It also attracts young people to join the organization as it has a cause."
He said Western news agencies have contributed enormously in providing news coverage on the environment.
"I like to see the ANN providing equally strong coverage."