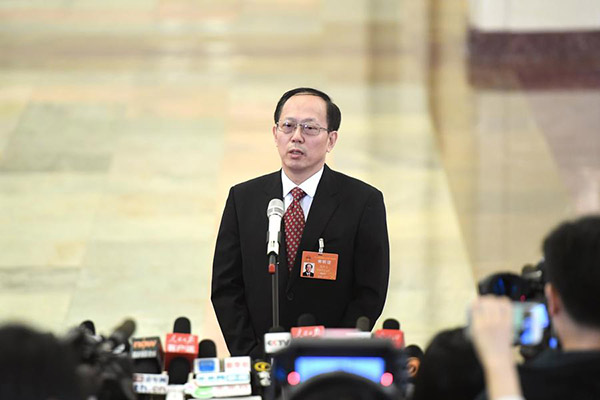 Sports Minister Gou Zhongwen speaks to reporters before the closing meeting of the annual session of the National People's Congress  in Beijing on March 15, 2017. [Photo/Xinhua]
The new sports minister, Gou Zhongwen, called on Wednesday for caution on soccer clubs' excessive spending on foreign players, stressing that more restrictive measures to curb the irrational investment will be implemented.
"It's a tough issue having drawn a lot of attention, and the sports body has been looking into it very seriously," Gou, director of the General Administration of Sport of China, said before the closing meeting of the annual session of the National People's Congress on Wednesday.
"The reason for those overpriced signings of foreigners is because some cash-rich club investors made the decisions imprudently for business reasons, not for the development of the game," said Gou, who was appointed on Oct 31 as the sports minister.
Inspired by the country's ambition to invigorate the soccer sector, 16 Chinese Super League clubs splashed out about $410 million signing foreigners during the 2016-17 winter transfer window, making the CSL the biggest spender among the world's major leagues, according to German website transfermarkt.com.
The spending spree has triggered concerns over less attention to investment on youth development.
"We have been alert to this trend and have issued a series of measures. We will look into it seriously and take further action to bring rational thinking back to the market," said Gou.
In January, the GASC proposed to the Chinese Football Association that a cap on transfers and salaries should be imposed to control increased spending while steering clubs to financial stability.
While stopping short of imposing the cap, the CFA echoed the administration's call by issuing a new rule, which has taken effect since March 3 that allows clubs to field a maximum of three foreigners, down from five in previous seasons, in domestic league games.
However, the country's national team is still struggling in Asian qualifiers for the 2018 World Cup in Russia. Its only previous appearance in the World Cup finals was in 2002.
Gou also unveiled on Wednesday that the sports body will work with other relevant departments to organize more grassroots sports events, build more accessible facilities and allow more nongovernmental sports associations to be established to involve more people in the country's mass fitness campaign.