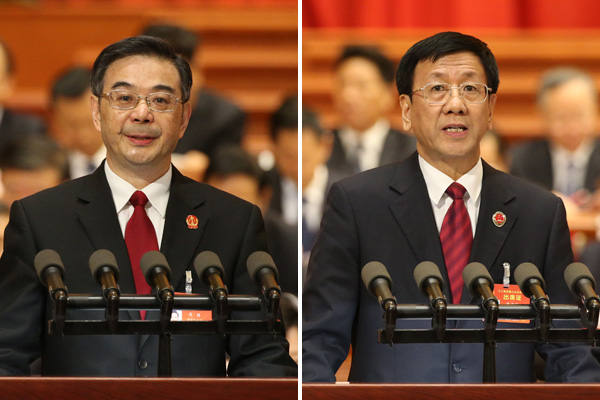 Zhou Qiang (left), SPC president, and Cao Jianming, procurator-general of the SPP, deliver speeches.[Photo by XU JINGXING/CHINA DAILY]
China's judicial authorities will continue efforts to correct wrongful verdicts this year and take comprehensive measures to protect citizens' personal and property rights, two senior judicial officials said on Sunday.
Last year, 1,076 criminal defendants were declared innocent, 37 more than in 2015, and 1,376 wrongful verdicts or sentences were changed on appeal, the Supreme People's Court President Zhou Qiang said during a work report to about 3,000 national legislators.
He mentioned a case on Dec 2 in which the top court posthumously pardoned Nie Shubin, a native of Hebei province executed in 1995. Nie was found to have been wrongly convicted of rape and murder on the basis of unclear and insufficient evidence.
"Such wrongful convictions humiliate justice," Zhou said, adding that courts at all levels must learn a lesson from such cases.
Cao Jianming, procurator-general of the Supreme People's Procuratorate, asked procurators on Sunday to find, report and correct possible wrongful cases, as well as to compensate victims and hold liable those involved in judicial miscarriages.
The top court and procuratorate also pledged to help maintain social stability and boost economic growth, ahead of a key Communist Party of China congress to be convened in the second half of this year.
The chief justice and procurator-general noted that judicial organs will also target cases related to poverty alleviation, a fundamental task in building a moderately prosperous society by 2020 as set by the Chinese government.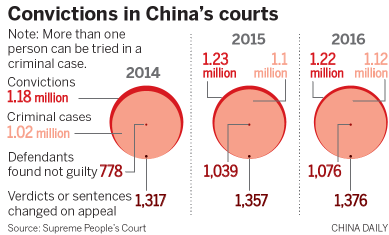 Since the 18th National Congress of the Communist Party of China in late 2012, courts nationwide have rectified a number of mistaken convictions in serious cases, which "finally let justice prevail" and "reflects the achievements of the rule of law", he said.
Zhou Guangquan, an NPC deputy and a criminal law professor at Tsinghua University, said the authorities' strong determination to act in wrongful cases impressed him.
"I'm glad to see the correction of some wrongful cases, but what I find more gratifying is the improvement in rules and regulations to prevent such miscarriages," he said.
Zhao Wanping, a national legislator from Anhui province, suggested that judicial authorities take more initiative in preventing and finding improper verdicts.
"Several cases were corrected after the defendants' families had appealed for decades. That's far from enough," he said.
Legislators said they expect courts to retry more controversial cases that might involve improper expropriation of land and houses in an effort to better protect property rights this year.
The Central Committee of the Communist Party of China and the State Council jointly issued China's first State-level guideline on the protection of property rights late last year. The guideline says that all kinds of property rights, public or private, will receive equal protection.
"For wrongful cases in which governments failed to provide statutory or reasonable compensation for individuals whose property was expropriated, courts should start the retrial procedure after a review," Teng Wei, deputy chief judge of the Trial Supervision Tribunal at the Supreme People's Court, said in an earlier interview.