Northern province is promoting clean energy as an alternative for heating
Beijing's neighboring Hebei province will significantly reduce its use of coal for heating this year to improve air quality, according to provincial authorities.
"By the end of this year, 90 percent of coal used in the province's rural areas will be replaced by clean energy, and environmentally friendly heat generation methods will be employed," said Guo Dajian, secretary-general of the Hebei Provincial Committee of the Chinese People's Political Consultative Conference, the province's top political advisory body.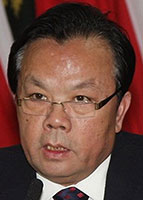 Guo Dajian, secretary-general of the Hebei Provincial Committee of the CPPCC.[China Daily]
He made the remarks on Thursday at a news conference to announce the committee members' No 1 proposal for this year, which was themed "Promoting Clean Energy Heating to Improve Air Quality", marking the sixth consecutive year that the committee has made the environment its top priority.
Hebei is well-known for having poor air quality and frequently experiences heavy smog during the winter heating season.
"During the heating season, household coal-burning is the main reason for heavy pollution in Hebei and neighboring Beijing and Tianjin," said Wang Xiaoli, director of Hebei Environmental Protection Bureau's Weather Emergency and Warning Center.
The amount of coal used for heating in Hebei's rural areas-where primitive boilers using poor-quality coal emit large amounts of pollutants-topped 30 million tons in 2015, accounting for more than a half of the province's total coal use for heating, according to Guo.
Last year, coal-burning accounted for about 50 percent of air pollution in Hebei's capital Shijiazhuang during the heating season, compared with 20 percent outside of heating season, said Guo Bin, a professor at Hebei University of Science and Technology's School of Environmental Science and Engineering.
At the annual meeting of the province's top political advisory body in January, nearly 100 proposals submitted by political advisers related to promoting the use of clean energy for heating, accounting for one-sixth of the total number of proposals, Guo Bin said.
Among them, the No 1 proposal, which has been approved by the provincial government, will be carried out throughout the year.
Measures mentioned in the proposal include promoting clean and renewable energy as an alternative to coal, using gas-fueled heating and electricity-powered heating, as well as promoting a central heating system.