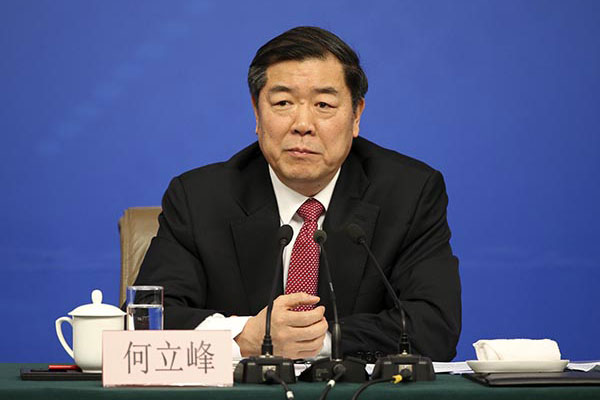 He Lifeng, director of the National Development and Reform Commission, attends a news conference of the two sessions in Beijing on Monday. [Photo by Feng Yongbin/China Daily]
Press conference of China's top economic planner attracted media attention on Monday. Media coverage focused on topics including inflation, overcapacity and economic growth.
Cut overcapacity
Reuters reports the NDRC's plan to cut overcapacity in steel and coal sectors.
"China will cut steel capacity by 50 million tonnes and coal output by more than 150 million tonnes this year.
In a work report at the opening of the annual meeting of parliament, the National Development and Reform Commission (NDRC) said it would shut or stop construction of coal-fired power plants with capacity of more than 50 million kilowatts."
Curbing inflation
Reuters reports that China will ensure prices stay basically stable this year while deepening price reform.
"China has many favourable conditions to achieve its consumer inflation target this year, National Development and Reform Commission (NDRC) vice chairman Ning Jizhe said at a news conference in Beijing. Premier Li Keqiang said on Sunday that China is targeting around a 3 percent increase in the consumer price index (CPI) this year. Last year, CPI rose 2 percent."
Boosting private investment
Reuters reports China will take further steps to support private investment.
"Zhang Yong, a vice chairman of the National Development and Reform Commission (NDRC), told a news conference that private investment is steadying and measures taken to boost such spending are showing results. Zhang said China will lower barriers to entry for private investment, simplify regulation, and further support investment through public private partnership programs."
Economic growth
South China Morning Post reports China's development minister dismisses concerns about slower growth.
"China's minister for economic and development policies has downplayed concerns of slower economic growth, saying Beijing is confident about charting a healthy and steady course of growth. He said the government 'has confidence and resolution' about hitting this year's 6.5 percent economic growth target and other policy goals."