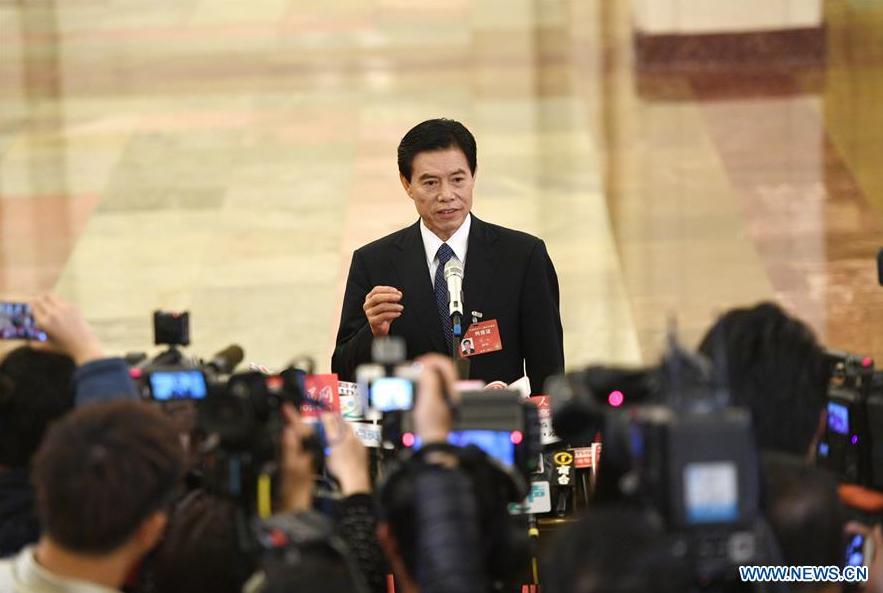 Chinese Commerce Minister Zhong Shan receives an interview before the opening of the fifth session of the 12th National Committee of the Chinese People's Political Consultative Conference in Beijing, capital of China, March 3, 2017. [Photo/Xinhua]
The famous "minister passage" at the two sessions -- the annual meetings of the National People's Congress (NPC) and the Chinese People's Political Consultative Conference (CPPCC) National Committee -- opened to the media this afternoon.
This year, reporters can not only ask ministers and ministerial attendees questions face-to-face along the corridor, they can also shoot their queries in a digital way -- through WeChat, according to cnr.cn.
The "minister passage", also known as "the ministers' red carpet", is the 100-meter passage near the northern gate of the Great Hall of the People where ministers and some other high-ranking officials must walk through before entering the meeting hall.
Session staff have launched a WeChat public account for the minister passage this year. Journalists who scan the QR code can send their questions to be asked of those who pass through the corridor. Journalists can also send their queries by text messages on phone.
For the reporters who cover the two sessions, the minister passage is like a mineral reserve of important information. Ministers and some other session attendees become the targets of constant bursts of camera flashes and face a barrage of questions.
Chinese Premier Li Keqiang has asked ministers of the State Council and heads of organizations directly under the State Council to address public concerns immediately.
The minister passage opened its door nine times last year, and saw high-ranking officials pass through, answering more than 70 questions from journalists at home and abroad, during the two sessions last year.
New ministers and officials: Who's who
There will be 14 officials at ministerial level who haven't walked through the corridor before. Let's look at who they are.