Nervous US and China-Russia ties
Updated: 2013-09-09 07:04
By Victor Larin (China Daily)
The White House seems to be have become a little nervous in recent years. It looks like some "minor annoyances", such as the setbacks of anti-government forces in Syria, former National Security Agency operative Edward Snowden's revelations, and some domestic problems, have pushed US President Barack Obama to take sharp steps and issue strong statements. Perhaps the developments have also prompted Obama to declare the United States' commitment to power politics, although he has used democracy and justice to justify such expressions.
The expos of Washington's surveillance program by Snowden didn't force the US to turn cold toward Russia. It was something more than that.
Russia, like China, does not share the White House's conviction that only Washington has the right to decide the fate of the world, and refuses to follow the US' dictates in international relations. The US is set to launch attacks on Syria, and in the process it would like once again to discredit its two main policy opponents, Russia and China, in the eyes of the American public and people across the rest of the world. The US aims to use the Snowden case - that Russia has granted him asylum - and the baseless accusation against China as an "Internet spy" to discredit them.
The fact is that all developed countries have Internet spying networks. But ordinary people have come to realize the seriousness of the problem only after Snowden's revelations.
The US has the most potent Internet spying network in the world, and it uses its connections with telecom giants like Google, Apple, Yahoo, YouTube and Skype to snoop into people's lives. The hype created by the US over Russian and Chinese Internet espionage networks is also an attempt to divert attention from its own activities. The technique of accusing others to divert attention from one's own wrongdoings is as old as the times. The US uses its powerful propaganda machine to divert attention from its own dirty work.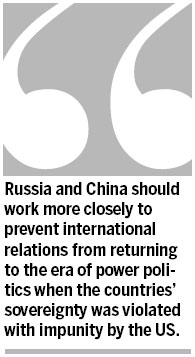 Despite all this, Russia-US relations are not likely to deteriorate to a point of no return, even though their bilateral ties are incomplete and diversified.
It's true that the Russia-US trade volume in 2012 was just more than $28 billion, one-third of that between Russia and China. And the US is not even among the top 10 foreign investors in Russia, with the volume of accumulated American investment in the Russia dropping over the past five years by about $500 million. But despite the relative economic weakness of Russia and the unimpressive Russia-US economic ties, Washington cannot ignore Moscow, especially because of the possibility of joint Russia-China actions in the international arena.