UN chief opposes militarization in Syria
Updated: 2013-09-06 17:01
(Xinhua)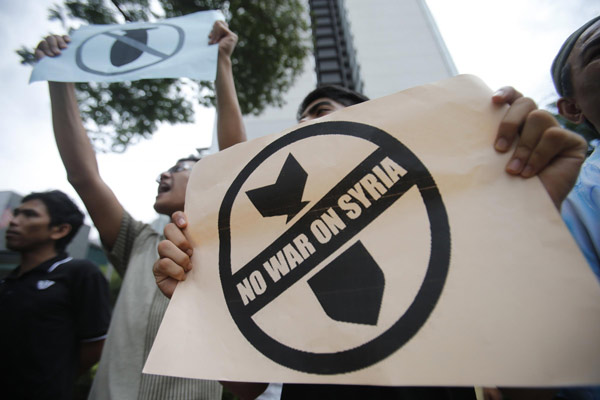 Demonstrators display placards during a protest against possible US attacks on Syria, outside the US embassy in Kuala Lumpur September 6, 2013. [Photo/Agencies]
ST PETERSBURG - UN Secretary-General Ban Ki-Moon on Friday called for avoiding further militarization of the Syria conflict.
"Thoughtless military action against Syria can have extremely grave consequences, humanitarian in particular; further militarization of the conflict must be avoided," Ban said on the sidelines of the Group of 20 (G20) summit here.
According to the UN chief, the humanitarian situation in Syria is dire and continues to deteriorate.
"As you know, more than 4.25 million people have been displaced within Syria and another two million people have fled the country, " he said.
Calling the humanitarian crisis in Syria "of unprecedented proportions in recent history," Ban urged the international community to do everything to stop the suffering of the Syrian people.
"Let us use this united recognition of the problem as our starting point for focused and positive action," he said.
Despite the grave situation, UN personnel had no plan to leave the country, he said. Currently the UN has 4,500 staff in Syria and millions of people are being assisted by them on a monthly basis.
Meanwhile, the UN was determined to "renew its efforts" to convene the Geneva conference as soon as possible. "A viable political outcome in Syria must see the full implementation of the Geneva Communique," Ban said.
He expressed hope "all of us here at the G20 summit, but also in the Security Council, recognize the need for a political solution to a tragic and prolonged humanitarian crisis."
On Thursday, Russian President Vladimir Putin, host of the summit and a strong objector to military action on Syria, extended a last-minute invitation to leaders to air their views during a summit dinner.
Three hours' discussion ended in vain. The participants found the only thing they'd confirmed was the division among them on the issue.