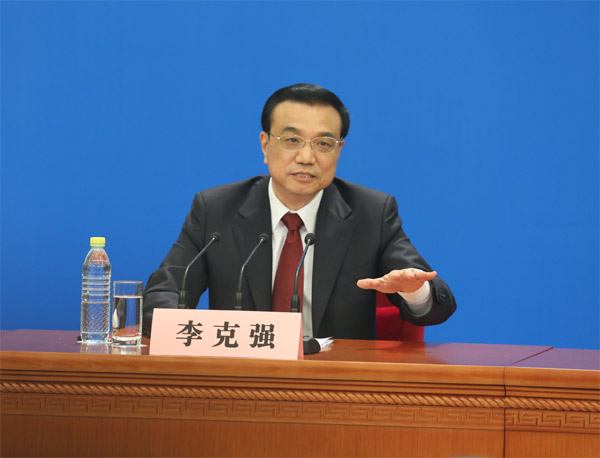 Premier Li Keqiang gestures during the news conference in Beijing, March 17, 2013. [Photo by Wu Zhiyi/Asianewsphoto]  
Following are highlights of Li Keqiang's first news conference as Chinese Premier on March 17, 2013.
  On cross-Straits relations

The two sides of the Taiwan Straits belong to one China. Residents on the two sides of Straits are compatriots. The concept of compatriots is deep-rooted in Chinese culture. I believe that is the reason our nation has thrived for 5,000 years. Bones may be broken, but they are not split, because we are compatriots. Between us, there is no knot that cannot be untied.
We're happy to see that in recent years cross-Straits relations have enjoyed peaceful development and cross-Straits cooperation has yielded good fruit. As long as we maintain the one China principle and the bond of compatriots, then there will be great space and potential in cross-Straits relations.
My government will fulfill the commitment made by the last government and, at the same time, to identify the new pivots for cross-Straits cooperation. In the course of developing the mainland, we will give more consideration for the well-being and interests of Taiwan residents, so that the two sides can share the fruits of the country's development.
Both the mainland and Taiwan belong to our common homeland. We need to maintain and develop well this common homeland, so that it will be full of flowers. When flowers are in full blossom, there will be a time for the moon to be full again.
On anti-corruption
Corruption and the nature of our government are water and fire. I want to state clearly that Chinese government has a great determination to fight corruption.
As government officials, we should serve the public and end the idea of making money, because they are two separated lines. We'd like to accept supervision from the society and media.
We need to establish and perfect the way we combat corruption, and we will punish corrupt officials without mercy. More importantly, we'll create a transparent environment, allowing the public to supervise effectively.
To provide a better life for people, the government has to practice austerity. A few days ago, I received a financial budget report, saying the central government revenue increases only 1.6 percent. People's livelihood must increase, not decrease, and our governments need to cut spending.
First, new governmental buildings will not be built. Second, a number of people on the government payroll will decrease, not increase. Third, receptions, business trips and the use of official vehicles will decrease, not increase.
On environmental protection
Li said we should not pursue economic growth at the expense of the environment. This government has made a greater resolve to provide people with clean air, safe drinking water and safe food.
Measures include creating a new model of development and pursuing scientific strategies, raising environmental thresholds and phasing out backward production tools.
Li urged a more transparent government and more public supervision to address the environmental issues, and the government should also help people take precautionary measures as well.
Q: Is there a timetable for the reform of re-education through labor?
Please allow me to give you a brief answer. About the plan for the reeducation through labor reform, the relevant departments are working intensively to formulate a plan, and it may be laid out before the end of this year.
On China-US ties
When I visited the US in the 1980s, a national election was in process, and I met people of both parties. They said to me no matter who is elected, the cooperation with China and the principle of one China will not change.
Over the last decade, there have been ups and downs in China-US relations, but the friendship has always been moving forward. We want to build a new type of relationship with the Obama administration. You ask me how to build it and it makes me think that I often meet American political leaders. They tell me frankly that they are coming for the benefit of the US. I tell them I work for China. So we have something in common. Look back three decades ago and the trade volume between China and US was only $1 billion. Last year it is more than $500 billion.
We will continue to cooperate and promote mutual benefits. In the future there will be more opportunities for trade and investment. I do not deny that there are conflicts between China and the US. We should respect each other and control the disputes. Shared interests often override disputes. We can learn from each other to promote friendship between the people and enhance the social foundation of China-US relations.
China and the US both have expressed an intention to keep the Asia Pacific region steady and prosperous. I hope we do what we say.
You asked about cyberattacks. This is a worldwide problem. China is the main target of these attacks. China does not support it and firmly objects cyberattacks. What you just said makes me feel it is presumption of guilt. We should not make groundless criticisms and do more to protect cybersafety.
On reforms
Li said China will pursue economic transformation to make full use of fiscal, financial, pricing and other policy instruments, and it will pursue the reform of budget system to make it more open, transparent and inclusive, which will allow the people to better supervise financial revenue and expenditure, and tilt government spending to areas that will benefit the people.
Li said that his government will improve people's well-being, promote social fairness and to do that we will encounter the income distribution system.
The premier also said that in pursuing reform China need to focus on the key areas and ensure overall coordination so as to make it clear the goal of socialism with Chinese characteristics.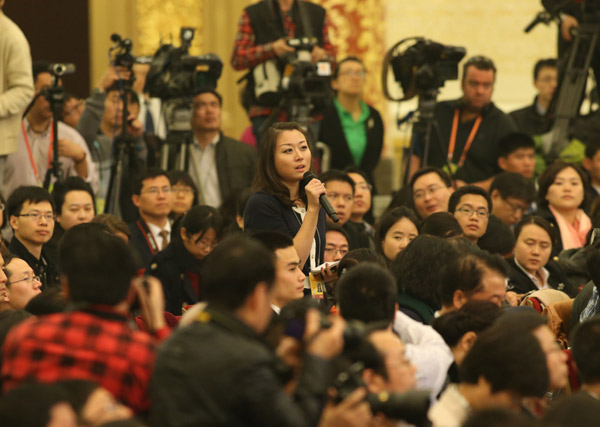 China Daily reporter Zhu Zhe, center, asks a question during the news conference in Beijing, March 17, 2013. [Photo by Xing Guangli/Asianewsphoto]