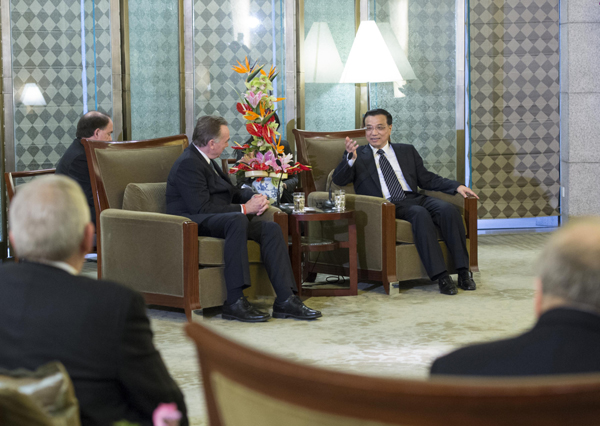 On Dec 12, Li meets with foreign guests attending the 2012 Annual General Meeting of China Council for International Cooperation on Environment and Development in Beijing. [Photo/Xinhua]
He considers urbanization to be the biggest source of development for the coming decades.
Li's doctoral thesis at Peking University, "On the Ternary Structure of China's Economy," won the Sun Yefang Economics Prize, the highest honor in China's economic circles. It reflected his thorough understanding on both world trend and China's reality. Through deliberation and practices of more than 20 years, Li has nurtured strategic theories of new urbanization.
He believes that China's urbanization should be conducted using advanced concepts and managerial expertise from abroad. He was deeply impressed by the urban layout of European cities, as well as their living environment and public services, during visits in the 1980s and 1990s.
In 2012, when he was preparing to visit Europe as vice premier, he proposed holding a high-level China-Europe forum on urbanization. One month later, almost 600 experts, businessmen and officials from China and Europe gathered in Brussels to discuss sustainable city planning and infrastructure-building. The forum became a new platform for strategic and practical cooperation between China and Europe.
Li has been pondering how to achieve a unification of scientific development and cultural progress in the process of urbanization. He has repeatedly stressed that urbanization should be a people-first drive which will eventually enrich rural residents and benefit the entire population. A key issue is to help over 200 million farmer-turned migrant workers gradually adapt to urban life.
During his tour to an economic development zone in Jiujiang city of east China's Jiangxi Province in late December, Li went to the homes of migrant workers and listened to their views on employment, income, housing, social security and education for their offspring. He later urged local officials to help the workers resolve these problems.
When Li served as the governor of Henan Province, he tried to seek a coordinated development of industrialization, urbanization and agricultural modernization. With these efforts, the inland province's economy is ranked the fifth among Chinese provincial-level regions.
Henan has also emerged as an industrial powerhouse, while its grain output surpassed 55 million tonnes last year. When attending a panel discussion with NPC deputies from Henan, Li called on the province to further pursue industrialization, IT application, urbanization and agricultural modernization.
Li Keqiang has paid close attention to the development of service industry, employment and low-income subsidized housing. Over the past five years, China has started the construction or renovation of 30 million units of affordable housing. Seventeen million units have been completed, improving housing conditions for millions of people.
Li has called for closing not only the gap between urban and rural areas, but the gap between different districts within cities. More than 12 million dilapidated urban homes were renovated over the last five years. In February, Li called on to initiate the second round of slum renovation.
In the coming five years, another 10 million urban households can expect to bid farewell to slums. A total of nearly 100 million people will benefit from the two rounds of renovation.