Premier Wen Jiabao called for efforts in his Government Work Report on Tuesday to advance urbanization "actively yet prudently" by speeding up reform of the household registration system.
"Urbanization is a historic task in China's modernization drive, and urbanization and agricultural modernization complement each other," Wen said during the opening of the first session of the 12th National People's Congress on Tuesday.
To advance urbanization, the government should register eligible rural workers as permanent urban residents in an orderly manner, and expand the coverage of basic public services in urban areas to migrant workers and other permanent residents, he said.
In his final Government Work Report as premier, Wen said he made his suggestions "based on an understanding of the work of the past 10 years, especially of the past five years" as part of the country's efforts to promote integrated urban and rural development.
Wen also advised the new government to keep megacities and large cities at an appropriate scale to drive development of surrounding areas and strengthen the ability of small- and medium-sized cities to develop industries, provide public services and increase employment.
In 2012, China's urban population accounted for 52.57 percent of the population, up 1.3 percentage points from a year earlier, and the rate is expected to rise to 53.37 percent in 2013, according to the National Bureau of Statistics.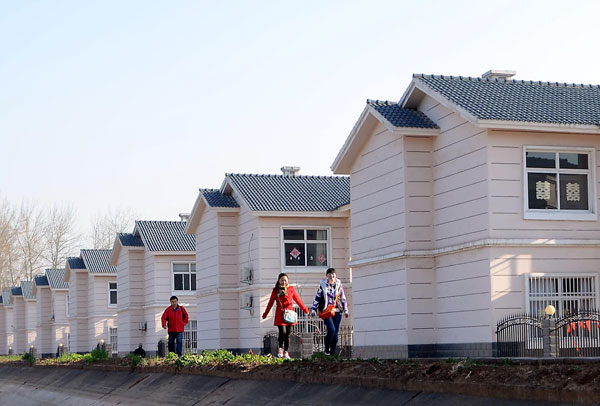 Villagers pass newly built houses at Yuantun village in Jiaozuo city, Henan province. The province's urban population accounted for 42.2 percent of its total population at the end of 2012, a year-on-year rise of 1.8 percentage points. [Photo/Xinhua]