Live report: 7.0-magnitude quake hits SW China's Sichuan
Updated: 2013-04-20 08:35
(chinadaily.com.cn)
| | | | | | | | | | | |
| --- | --- | --- | --- | --- | --- | --- | --- | --- | --- | --- |
|   | | Comments() | | Print | | Mail | | Large Medium  Small | 分享按钮 | 0 |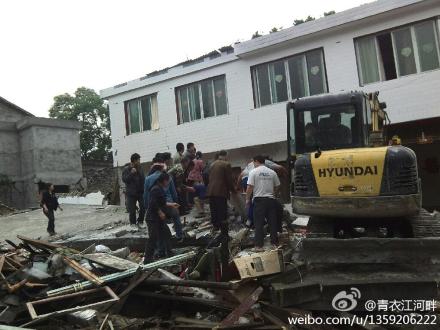 Rescuers search for survivors in Wuxing village, Lushan county, Sichuan province. Power and water supply were cut off with strong aftershocks, according to local Weibo user Qingyijianghepan.
9:32
Journalist of Guangzhou Daily Liu Xiaoxi reports on Weibo that people in Wenchuan, Sichuan province felt the earthquake strongly. Cracks appeared in the building but residents were calm.

9:30
Chengdu Shuangliu Airport has been closed after a 7.0-magnitude earthquake hit Southwest China's Sichuan province. Planes are now diverted to Chongqing while the province declared a first-degree emergency response, China Central Television reported.
9:20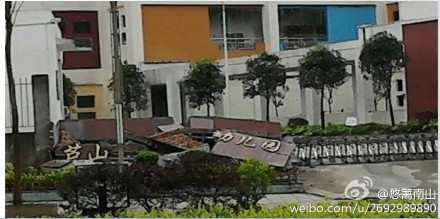 Weibo user Youlinanshan uploaded a picture showing the collapsed building of a kindergarten after earthquake in Lushan, Sichuan province.
CHENGDU - A 7.0-magnitude earthquake hit Lushan county of Ya'an city in south China's Sichuan province at 8:02 am Saturday Beijing Time, according to the China Earthquake Networks Center (CENC).
Lushan county is a county of Sichuan Province under the administration of Ya'an city and has a population of around 120,000.
The epicenter, with a depth of 13 km, was monitored at 30.3 degrees north latitude and 103.0 degrees east longitude.
The quake was strongly felt by residents in Sichuan's capital city of Chengdu, which is about 140 kilometers from Ya'an.
A resident in Chengdu, who was on the 13th floor of a building when the quake occurred, said he felt the building shaking for about 20 seconds and he saw tiles fall off nearby buildings.
Luo Xian, a resident in Mianyang city in Sichuan, about 260 kilometers from Ya'an city, said she was sleeping when the quake occurred and the bed was swaying. She also felt several aftershocks.
People in Leshan city of Sichuan province, and neighboring Chongqing municipality also felt the earthquake. In downtown Chongqing, a resident said "I saw the lamps were swaying and water in my fishbowl stirring."
According to users of the twitter-like microblogging service Sina Weibo, people in a number of cities in Sichuan, including Mianyang, Deyang, Meishan, Yibin, Guangyuan, Luzhou. The tremor was also felt in provinces of Guizhou, Gansu, Shaanxi and Yunnan.
Multiple aftershocks jolted the area after the 7.0 magnitude quake took place, the largest aftershock in magnitude being the 5.1-magnitude one which shook the bordering area of Lushan and Baoxing counties of Sichuan at 8:07 am.
Till the time of release, several aftershocks rated above 4.0-magnitude hit the area, including a M-4.8 quake at 8:06 am, a M-4.6 one at 9:02 am, a M-4.1 one at 8:31 am, and a M-4.1 on at 8:37.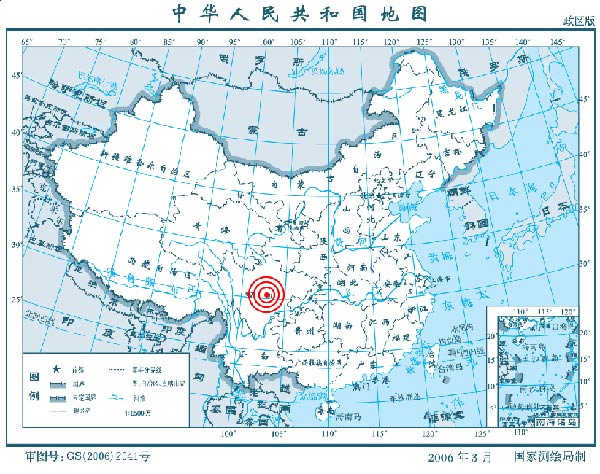 Map locating the place hit by a 7.0-magnitude earthquake.[China Earthquake Networks Center]