CPC membership swells to 82.6 million
(chinadaily.com.cn)
Updated: 2012-11-05 17:23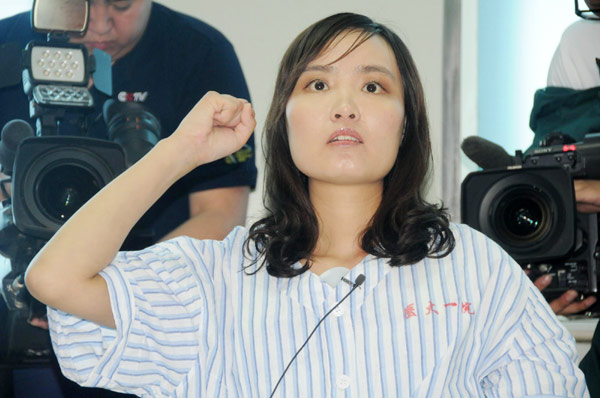 Zhang Lili joins the CPC in Harbin, Heilongjiang province, July 1, 2012.[Photo/Xinhua]
When Zhang Lili, dubbed the most beautiful teacher for saving two students in a traffic accident, joined the Communist Party of China on its 91st birthday, she was one of more than one million people who joined the CPC that year, the China News Service reported.
According to statistics from the Organization Department of the CPC Central Committee, China has more than 82.6 million CPC members at the end of 2011. The number is more than the population of England or France, and almost the population of Germany.
The number was 65.75 million at the end of 2001, which means nearly 17 million people joined the CPC in the past 10 years, more than one million every year.
Xin Yi, a professor of Renmin University of China, found that more people working in private and foreign enterprises, self-employed businesses and intermediaries joined the CPC since 2001, when it began to accept "those outstanding elements from other sectors of society who have subscribed to the Party's program and Constitution, worked for the Party's line and program wholeheartedly, and proved to meet the requirements for Party membership through a long period of tests."
And the list of delegates for this year's 18th National Congress of the Communist Party of China proves that with lots of new faces.
Some 200,000 college graduates serving as grassroots village officials will have four delegates for the first time. More people representing the 240 million migrant workers in China have also been given a voice.
Several CPC members working for new economic organizations and social organizations have also been voted delegates.
Shi Lei, a graduate from Tsinghua University, is the first delegate of college graduates serving as grassroots village officials among the 2,270 delegates of the 18th CPC National Congress. The 24-year-old man, with three other delegates who are also college graduates serving as grassroots village officials, changes villages to share their knowledge. Their stories have encouraged many young people.
Statistics show there are 20.62 million CPC members under the age of 35, making up 25 percent of the total. 31.91 million CPC members with college degree or above, making up 38.6 percent of the total.
Xin Yi told reporters it is an obvious trend that the CPC has more young members and more with good educational backgrounds. Most of them were born after China's reform and opening-up. They will keep the Party ahead of the time.
Migrant worker Cheng Junrong from Jiangsu province was elected a delegate of 18th CPC National Congress in August 2012. He and 25 other migrant worker delegates will step into the Great Hall of the People on Nov 8, when the 18th CPC National Congress begins. It is considered a symbol that migrant workers are becoming part of the political scene.
Yang Deshan, a professor of Renmin University of China, said the number of migrant workers in China is about 250 million, making up about 25 percent of China's workforce. They are both workers and farmers, citizens both of cities and rural areas. They are important intermediaries in China's rural modernization.
Yang told reporters there are also some new faces of the CPC that should not be neglected. They work for social organizations and private non-enterprises. The number of people working in new industries is increasing sharply. These CPC members will influence deeply on China's democratic process and efforts to build a socialist country under the rule of law. Among the delegates of 18th CPC National Congress, three lawyers from Beijing, Shandong and Jiangxi carry the society's hope of fairness and justice.
The number of CPC members working for private enterprises is also increasing. In 2002, seven private enterprise owners were elected as delegates of 16th CPC National Congress, 17 delegates in 17th CPC National Congress in 2007, and 27 in 18th CPC National Congress this year. According to statistics, at the end of 2011, some 983,000 private enterprises, 26,500 social organizations and 27,400 private non-enterprise organizations have Party organizations, welcoming talented people joining the CPC at any time.
Xin Yi said the change in number and structure of CPC members embodies the improvement of Chinese society, proving the CPC keeps pace with the times by accepting outstanding people from different social backgrounds. He believes it will keep the great influence and cohesion of the Party in State political life and help solve contradictions and problems in China's transition period.