Support grows for strong action on smoking

By Shan Juan and Xin Dingding (China Daily)
Updated: 2011-03-14 07:44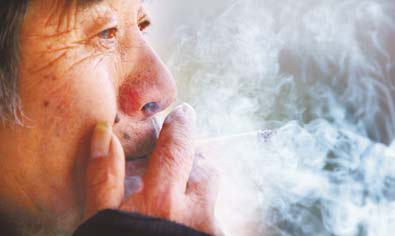 A man smokes in Fuyang city, Anhui province, on Jan 9. Jing Bao / for China Daily
Beijing - For the second year in a row, legislator Wang Longde, former vice-minister of health, has put forward a proposal during the annual session of the National People's Congress (NPC) urging the central government to take substantial action on control of smoking and tobacco.
Related readings:


 12 venues and 5 people fined for smoking in Shanghai


 Net cafes worst offenders under smoking ban


 Experts urge smoking ban


 Strict ban badly needed to cut smoking, experts say

Wang's proposal includes a further rise in cigarette tax in a bid to deter smokers and a nationwide law that will ban smoking at indoor public venues.
As a member of World Health Organization's Framework Convention on Tobacco Control (FCTC), China failed to meet a Jan 1 deadline for promised measures that included banning smoking in public indoor places across the nation and a total ban on tobacco-related advertising, according to Wang.
The convention became effective in China on Jan 9, 2006, as a binding law after being ratified by the Standing Committee of the NPC.
"There is still a huge gap between the FCTC requirements and what China has done," Wang told China Daily on Friday.
So far, there are only regional smoking control regulations, which are poorly implemented.
"Without effective intervention, China would have at least 3.5 million people dying of smoking-related diseases each year on the mainland," Wang warned. The figure now is about 1.2 million.
Currently, China has about 301 million smokers on the mainland, 23 percent of the population, and 740 million people, including 182 million children, are suffering from the effects of secondhand smoke, official statistics show.
Scientifically proven health impacts of smoking include heart disease and lung cancer, which seriously harm the country's productivity, Wang said.
Under his influence, 540 legislators have signed on to support Wang's proposal. It is one of the most popular proposals at the session, with most legislators endorsing it, Wang noted.
Wu Ming, a member of the Chinese People's Political Consultative Conference (CPPCC) National Committee, put forward a proposal calling on the central government to set up a higher-level regulatory body for tobacco control.
Currently, the Ministry of Industry and Information Technology is in charge of the campaign. Notably, it also supervises the State Tobacco Monopoly Administration.
"Such a setup highlights a conflict of interest and has been hampering the enforcement of tobacco control regulations," she said.
The 281 co-signers of Wu's proposal included Minister of Health Chen Zhu and Vice-Minister of Health Huang Jiefu.
But Wu conceded that despite a public call for a smoke-free "two sessions" this year, many of the NPC deputies and CPPCC National Committee members were still seen smoking.
"Some of my smoking peers strongly refused to sign their names," she said. "I don't know whether my proposal will help but I'd like to try."
Opponents feared that tobacco control will harm the nation's economy and employment, given that the industry employs at least 10 million people and contributes more than 7.5 percent of total government revenues.
But "actually the smoking industry is a money-losing business in the country", said Wang, citing a report by the Chinese Center for Disease Control and Prevention.
In 2010, the tobacco industry cost the nation 61.8 billion yuan ($9.3 billion) for treatment of people for smoking-related illnesses and for dealing with tobacco-related issues such as pollution. This was more than it generated in profits and jobs created, the report said.
China Daily
(China Daily 03/14/2011 page6)