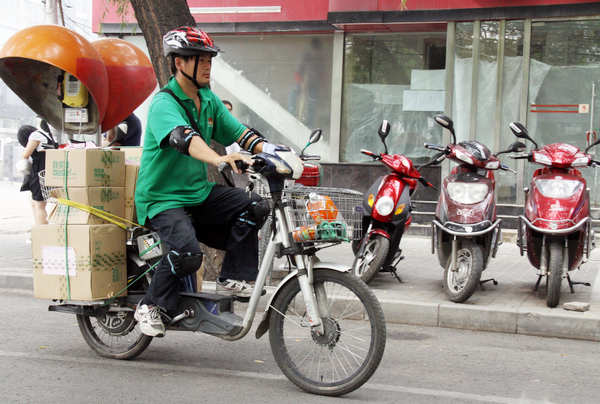 A delivery man of an online shop heads to customers in Beijing. The ban on electric bicycles in Shenzhen is expected to affect express delivery business there. [Zhu Xingxin / China Daily]
Express delivery
Electric bicycles are more than a convenience for commuters. They are "the main transport tool for China's express delivery companies to dispatch goods to households", said Xu Yong, an analyst for China Express Consulting.
"Shenzhen has over 60 express delivery companies. Once the ban is enforced strictly, a huge backlog of orders will be inevitable, and that will have a significant negative impact on the entire domestic express delivery network," Xu said. "I think issuing special passage permits to express delivery companies is a good way to solve the problem."
Liu Qiangdong, CEO of 360buy.com, said on his Weibo micro blog that because of the ban, the shopping website must rent more delivery sites to narrow the distribution range. He expects the cost of running the company to rise by 40 percent.
Express delivery giants such as EMS and Shunfeng plan to buy minibuses, although they are less convenient and their operating costs are higher.
Water and milk delivery has been affected as well. "A few of my water guys came to me and quit on the day the news came out," said He Youlin, who owns a potable water shop in Futian district. "We have no minimum wage and it all depends on the commission, how many buckets of water you deliver every month. They can't make a living without electric bicycles."
E-bike's future
If electric bicycles were given the death penalty in Shenzhen, their status elsewhere in China isn't much better.
A notice affirming the top speed limit of 20 km per hour and a weight limit of 40 kilograms was issued in March by four agencies, the Ministry of Public Security; the Ministry of Industry and Information Technology; the State Administration of Industry and Commerce; and the General Administration of Quality Supervision, Inspection and Quarantine.
Those limits were set as the national standards in 1999, and the March notice said that electric bicycles that exceed the limits are sub-standard. Producing them, selling them and driving them on public roads are prohibited.
The notice also required all parts of the country to set a transition period to eliminate sub-standard electric bicycles. Beijing hasn't yet determined that period.
After three months, sales have not been affected on Beijing's "electric bicycle street", about 500 meters from the west gate of Tsinghua University. Giant, Yadea, Xinri, Luyuan - customers can find almost all of the domestic brands of electric bicycles among more than 20 franchise stores and service shops.
"From June to October is the boom selling season and we can sell about 200 electric bicycles a month on average, almost the same as last year," said Zhang Shuang, sales manager of Xinri electric vehicle franchise store.
"I knew that four government agencies launched a notice to limit the speed and weight, but it hasn't influenced sales at all," Zhang said. "Nowadays customers only care about price and speed.
"I've never heard that customers like to buy low-speed ones. If the speed is limited to less than 20 km/h, people might as well ride a bicycle rather than spend at least 2,000 yuan on an electric one."
In the Yadea franchise store, three young women in red T-shirts were busy answering customers' questions.
"We can sell about 100 a month on average," seller Chen Han said. "The majority of customers are office workers and students.
"Except old people, no one worries about high speed. Only an idiot will spend a lot of money on an electric bicycle that drives like an ordinary bicycle."
The most popular model in Chen's store costs 2,500 yuan, with the highest driving speed of 35 to 40 km/h and a weight of 50 kg.
Chen said that each electric bicycle has a speed governor. Customers can tear it down after purchase.