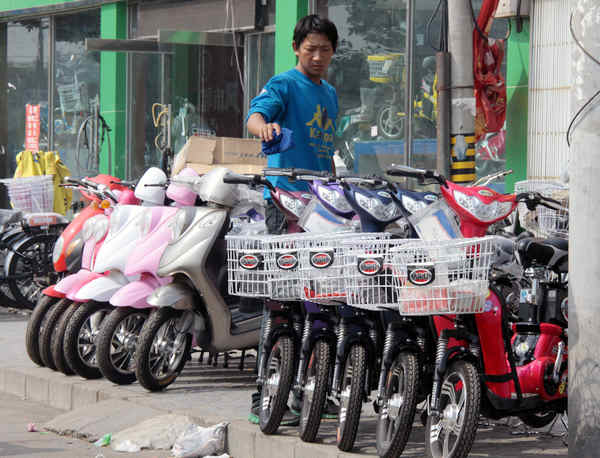 A salesman at an electric bicycle shop in Beijing cleans his new bikes outside the west gate of Tsinghua University. The ban on electric bicycles in Shenzhen might affect the industry. [Zhu Xingxin / China Daily]
Fans and critics
Some people have complained online that the government made its decision without input from the people, and that many would be inconvenienced.
But Hu Xiaolin, 31, of Beijing is all for the ban. Her right ankle was broken last month when a speeding electric bicycle collided with her ordinary bike, and she still cannot walk.
"One week's stay in the hospital cost me over 20,000 yuan," Hu said. "Now I feel a little afraid whenever I think of an electric bicycle," Hu said. "I hope Beijing can copy Shenzhen's action."
Chen Liangliang, 27, doesn't buy the safety reason. "If they look at figures, they would find the number of motor vehicle accidents is at least five times higher than non-motor ones. According to their logic, why don't they ban all the cars?"
A netizen using the name Maybach2011 called electric bicycles Shenzhen's moving bomb, with the speed of a motorbike. "Of course it provides convenience to a group of people, but the fact is it brings more danger to the rest. I totally agree with the ban."
Shang Rupeng does not. "I bought an electric bicycle last June and now it's my major transport tool. The buses are too crowded during rush hours. It's often very awkward for me, especially in summer. I hate the feeling of being sucked into the crowds, with other people's bodies pasted to mine.
"I spent 2,400 yuan on my electric bicycle, more than my salary for one month," said Shang, who works at a mobile phone factory in Shenzhen. "How could the government allow us to buy it, but force us to lock it at home?"
Wu Limin, a former deputy to the Shenzhen Municipal People's Congress, recognizes the safety issues and the "irresistible general trend" to respond with regulations.
"But the problem of electric bicycles cannot be solved by banning them," Wu said. "It's just like we can't cut the feet to fit the shoes. Banning electric bicycles should be synchronized with improving the city's public transportation network."
"It's the citizens' right to choose their favored method of transportation," said Qi Ming, who works at a Shenzhen newspaper. "If people like, they can even travel on skateboards or Rollerblades.
"Electric bicycles are a good supplement to city transport," Qi said. "Blindly banning them will only force people to buy cars. The more strictly the ban is enforced, the more traffic jams and pollution will occur."
There's also risk of an economic effect. More than 1,000 factories nationwide produce electric bicycles; 200 of them are in Shenzhen, 40 in Shajing town alone. Annual output of Shenzhen's e-bike industry is valued at 1.6 billion yuan.