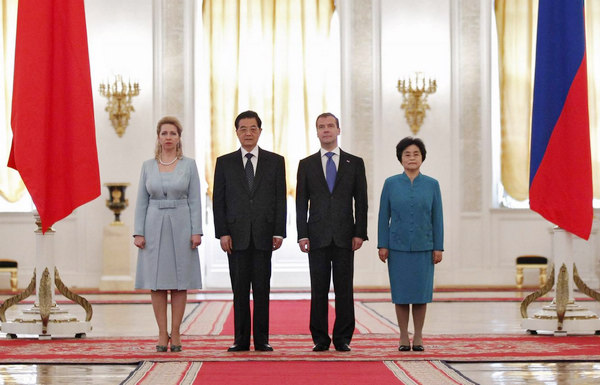 President Hu Jintao (2nd L) and his Russian counterpart Dmitry Medvedev (2nd R) attend a welcome ceremony in Moscow, Russia, June 16, 2011. [Photo/Agencies] 
MOSCOW - Chinese President Hu Jintao on Thursday held talks with his Russian counterpart, Dmitry Medvedev, to review the achievements in bilateral relations over the past decade and plan for the development of ties in the next 10 years.
Hu pointed out that the China-Russia strategic cooperative partnership has seen unprecedented development since the two countries signed the China-Russia Treaty of Good-Neighborliness, Friendship and Cooperation in 2001.
Related readings:


 New era for Sino-Russian ties


 Hu stresses all-round co-op as China, Russia upgrade ties


 Hu calls for dedication to developing China-Russia ties


 China's Hu meets with Medvedev in Moscow
He said the two sides have resolved border problems once and for all and become each other's most important strategic partner of cooperation.
The two sides have established proper mechanisms of regular meetings between their leaders and cooperation mechanisms between various government departments, Hu said, adding that China and Russia have signed more than 200 cooperative documents which helped improve the mechanisms and legal basis of bilateral ties.
Bilateral trade has increased from some $8 billion in 2000 to nearly $60 billion in 2010, and the two sides have carried out a number of large-scale cooperative projects in the areas of energy, science and technology and region-to-region cooperation, Hu said.
Meanwhile, the reciprocal staging of "Youth Friendship Years" and "Language Years" have improved the ties between the two peoples and deepened their traditional friendship, the Chinese leader said.
Hu said the two countries have jointly worked for the establishment of such regional and multilateral cooperative mechanisms as the Shanghai Cooperation Organization and BRICS (Brazil, Russia, India, China and South Africa), and also cooperated closely within the frameworks of the United Nations and the Group of 20.
Hu said the growth of China-Russia relations has promoted both sides' development and brought substantial benefits to the two peoples, and helped promote regional and world peace and stability.
Pointing out that the next decade will be a critical period for the two countries for their respective development and for deepening their partnership, Hu said China will as always take China-Russia relations as foreign policy priority.
He said China is ready to work with Russia to develop a comprehensive strategic cooperative partnership featuring equality, mutual trust, mutual support, common prosperity and lasting friendship in the new decade.
Hu stressed that China will unswervingly pursue the road of peaceful development and work for the establishment of a harmonious world of long-term peace and common prosperity.
"We always regard Russia as an important force to promote world peace and development," Hu said, adding that China is willing to see a stronger Russia.
Hu called on the two countries to continue to deepen strategic mutual trust and increase political mutual support, saying they should persistently push for multipolarization of the world and democratization of international relations.
As for practical cooperation, Hu said the two sides should work to boost bilateral trade, with the goals of reaching 100 billion dollars by 2015 and 200 billion dollars in 2020.
He expected the two sides to actively advance oil and natural gas cooperation, expand collaboration on nuclear energy, coal, electricity, new energy and new technologies, so as to build a strategic partnership of energy cooperation.
He also said both sides should promote mutual investment and strengthen region-to-region cooperation.
The Chinese leader meanwhile said the two countries can enhance cooperation in education, health, sports, media and tourism to continuously consolidate the social basis of bilateral relations.
Medvedev, for his part, said the Russian side is fully satisfied with the development of bilateral relations over the past decade.
He specifically hailed the rapid development in economic and trade cooperation between Russia and China, ever-enhancing exchanges between the governments and legislative bodies, as well as the two sides' coordinating efforts in regional and international affairs.
Medvedev said the two sides should continue to diversify bilateral trade and increase the proportion of hi-tech products in their trade, further promote the use of their own currencies as currencies of settlement, and step up collaboration in the areas of finance, energy, aviation, space, customs and region-to-region cooperation.
He welcomed more Chinese companies to set up businesses in Russia.
Medvedev said Russia and China are to stage the "Year of Tourism" activities in a bid to deepen cultural exchanges and cement the friendship between the peoples.