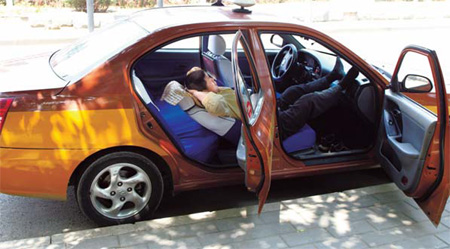 A taxi driver naps in Beijing. Life is not easy for taxi drivers across the country, with long working hours, the high cost of fuel and unstable income. [Feng Yongbin / China Daily]
A change, a lawsuit
Industry experts and academicians have followed the taxi industry since China Economic Times reported on the industry as a cartel in 2002. These experts have criticized the industry for what they believe are wide disparities between company profits and driver wages.
Some change has occurred. When China Economic Times first reported the issue, drivers in Beijing were charged 30,000 to 50,000 yuan for their one-time risk deposit. Now they pay roughly one-quarter of that amount.
Meanwhile, the service that drivers get in return for the "management fee" remains unclear.
Zheng Chenglong, a 30-year-old cab driver, said, "The company claims that they have paid the health insurance for us. But every time we asked about it, we got a vague and evasive answer."
Zheng also said some drivers do not know what is in their labor contracts when they start the job. "We were just asked to sign on a blank sheet of paper."
Legal Daily newspaper reported in October that Wang Shulan and 20 other taxi drivers in Beijing prevailed in a legal case over their social security funds. Wang signed a contract with the cab company, Wanquanyuan, in 2001. The contract made it clear that both parties would pay for Wang's social security, as required.
Wang later discovered the company had not made any payments on her account. She demanded that the company pay up and it refused, so in the end she filed suit with the other drivers. They won the case.
Action in Shanghai
In addition to the possible fare increase reported late Monday, taxi drivers got another break in Shanghai last month. Starting on May 1, the Municipal Transport and Port Authority reduced the "management fees" that drivers pay to taxi companies by 350 yuan. It is the fourth such cut, totaling 1,800 yuan per vehicle, since 2006. The current monthly fee in Shanghai is 8,150 yuan for each taxi.
"The reduction of more than 300 yuan (the most recent cut) has put the taxi companies under a lot of pressure, and there is no further room for the reduction of management fees," Lu Jiajun, secretary-general of Shanghai Taxi Association, said in an interview with China Central Television (CCTV).
Lu did not specify the daily operating expenses of these taxi companies during the interview. The association, which mainly represents the interests of its member taxi companies, declined China Daily's interview request prior to Monday's public hearing.
"Taxi companies in the country operate under the protection of local governments. They face no open-market competition, and this situation hasn't changed much since the past decade despite the fact the problems are so widely known," said Yu Hui, a researcher with the Chinese Academy of Social Sciences. He said Lu Jiajun's explanation of no leeway for further management fee reductions is "total nonsense".
Taxi companies, like other transportation businesses, are government chartered and require special approval to open and operate. Because of that, Yu said, some officials and their relatives have "heavy stakes" in taxi companies.
During an interview with China Daily two years ago, Yu was making the same demands, that taxi companies make public their financial statements.
You Chenli, a researcher at Transition Social & Economic Institute in Beijing, said, "What do taxi companies do? Unfortunately, from the perspective of economic value, the company did not make any contribution and does not create any value to the industry."
Last month, Guangzhou Daily newspaper reported that drivers in South China's Guangzhou also need to pay enough "tea money" (bribes) if they want to drive taxis. The amount has risen from 200 yuan 10 years ago to 20,000 yuan this year, a driver surnamed Wang told the Guangzhou Daily.
On Wednesday, the Communications Commission of Guangzhou Municipality published a detailed list of charges that are included in the management fee to prevent overcharges by taxi companies
Solutions
To most experts, the solution to the taxi industry's problems is simple: Open the industry to the free market.
One of them, You of Transition Social & Economic Institute, believes that with the right standards and thresholds that allow anyone to enter the industry, local governments could change their responsibilities from regulating the number of taxis to ensuring better quality control.
You also suggested two "painless" options for reform - gradually issue taxi licenses to individuals and let them become owner-drivers. More licenses could also allow illegal taxi drivers to work legally to meet increased demand.
China's census shows that Beijing's population increased from 13.6 million to 19.6 million - 44 percent - from 2000 to 2010. Meanwhile, black taxis troll for fares at the airport, at railway and subway stations, at scenic spots and in residential communities.
A CCTV report in 2006 indicated that the unlicensed cabs in Beijing totaled 72,000, exceeding the number of legal ones. All were driven by migrant workers because, without Beijing hukou (permanent resident permit) they cannot work as taxi drivers, the report said.
Soon after, Beijing police launched several rounds of crackdowns by the government to tackle the illegal taxi issue, but the problem remains. "It is not like I don't want to be a legal driver, I just cannot," Li, a "black cab" driver from Southwest China's Sichuan province, told China Daily.
In an article published in the May issue of China Reform Magazine, You wrote, "Of course there will be obstacles when it comes to reform, and great resistance from interest groups and beneficiaries of the monopoly is inevitable. However, if we do not start to change as early as possible, then we will be on our way to the abyss."
Wu Yiyao contributed to this report.