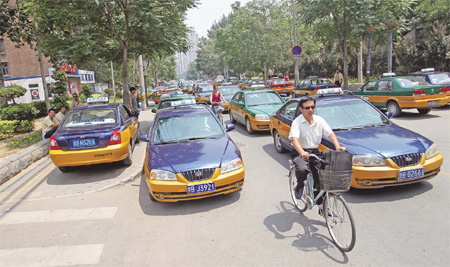 Taxis charge more these days, but their drivers do not benefit. The surcharge, now 2 yuan in Beijing, goes to cover the higher cost of fuel. [Feng Yongbin / China Daily]
Wang Shoulin is one of the 90,000 taxi drivers working in Beijing. To his family, he is everything.
He is the only breadwinner, and his monthly income of 3,000 yuan ($460) has to cover his son's fifth-grade tuition and his 76-year-old father's medical bills.
Every morning, when he wakes up, he owes the taxi company 100 yuan for the lease, or management fee, whether he works or not.
Cab drivers regard the first eight hours of the shift as working to repay the company and to cover the cost of fuel. After those eight hours, they make their own money.
So Wang puts in well over eight hours a day. He works a 24-hour shift, with a nap in the taxi for a couple of hours from 3 am and then drives again to 9 am before turning over the taxi to his partner for the next 24 hours. When the price of gasoline went up in April, Wang found no way to extend his exhausting shift to cover the higher fuel cost.
Since April 9, consumers in Beijing and many other cities have been paying a fuel surcharge of 2 yuan, instead of 1, tacked on to the fare shown on the meter. At a public hearing in Shanghai on Monday, most participants preferred raising the starting price on taxi meters from 12 yuan to 13, local news reports said.
The original surcharge was introduced on Nov 25, 2009, when gasoline cost about 6.6 yuan a liter. It now costs 7.85 yuan.
Local governments are also paying fuel subsidies to help taxi drivers deal with higher costs.
Still, drivers say they are hard-pressed to make a living. How are they different from other workers who see inflation nibbling at their incomes? Their business is tightly controlled by local governments and taxi companies. Fares are set by local government and the drivers are charged what in some places would be called "pay to play" fees that take big bites from their revenue.
As rising fuel prices put the squeeze on drivers, industry experts and academicians increase the volume of their calls for reform of the taxi monopoly. They note past incidents of public protests by taxi drivers and the free rein of illegal cabs on the streets despite countless crackdowns.
If the lid on the number of taxis were lifted and free-market competition allowed, they say, the industry would develop in a healthy manner and protests and so-called "black cabs" would no longer be a problem.
Making a living
Every month, taxi drivers in Beijing are supposed to receive 785 yuan in fuel subsidies from local government and 520 yuan from the company they work for. The government subsidy is paid to the company, which is to pass it on to the drivers, according to the Beijing Municipal Commission of Transport.
Cabbie Wang Lianchen said he and his partner receive only the company subsidy, but also that the company increased its monthly management fee by the same amount. So he nets zero.
According to the National Business Daily newspaper, local governments throughout China have spent more than 6 billion yuan on fuel subsidies while the taxi industry has contributed 2 billion yuan in taxes.
Meanwhile, taxi drivers - and there are 2 million of them in China - say their income has remained stagnant at best.
"Ten years ago I could earn about 4,000 yuan a month without too much difficulty," veteran Beijing cabbie Sun Qinglin said. "Now even 3,000 yuan a month is not bad for me and I have to really push myself."
Wang Shoulin feels the same. "Everybody works till they cannot continue. If you want to cover the fenzi qian, the fuel and leave a fair amount to yourself, you have to work till you cannot continue."
The fenzi qian is the monthly "management fee" the drivers must pay to the companies to get on the road. The average is 5,000 yuan per vehicle for one individual, 6,000 yuan per vehicle when two drivers share the cab.
Drivers also need to pay the company a one-time "risk deposit" of 8,000 to 10,000 yuan.
In Beijing, Shanghai, Guangzhou and other major cities, few drivers own their taxis. Some did, but lost ownership to taxi companies when the government started to regulate the industry in the 1990s.
Taxi companies own 98 percent of the 66,000 taxis in Beijing, according to data from the commission. The number of taxis allowed, which is controlled by the local government, has held steady since 2003.
A community
At 9 o'clock in the morning, Wang returns from his 24 hours at the wheel, looking weary but relieved. At least now he can just sit at the foot of a tree, light a cigarette and wait for the shuttle to take him home. One can hardly tell from his dark, wrinkled face and unkempt hair that he is just 38 years old.
In this northern suburb of Beijing, taxi drivers have developed into a small community near the Caochangdi Gasoline Station, where Sun, Wang and other drivers change shifts and fuel their cabs.
Many in this community agreed the long shifts are necessary so they can bring home 3,000 yuan a month, a comparatively healthy amount that won't kill them. Here, every taxi driver seems to know about fatigued drivers who died at the wheel.