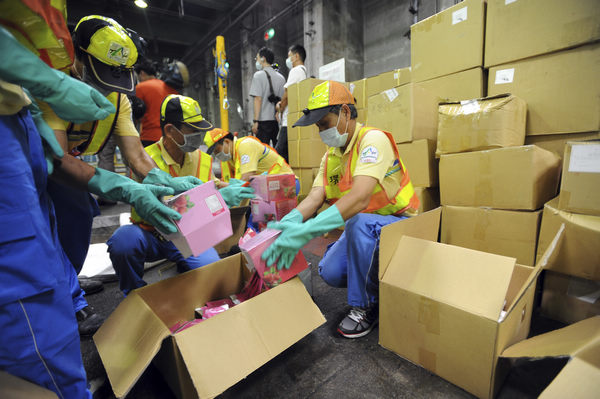 Employees of Taiwan food safety authorities destroy DEHP-tainted products on Saturday. In Taiwan, 286 tons of tainted food products were either incinerated or poured into sewage treatment works. [Photo/Xinhua]
Tests in Hong Kong
In Hong Kong, the Center for Food Safety and the Department of Health have stepped up quality inspections of imported food from Taiwan, including beverage, tea, jam, capsules, powder, calcium tablets, fruit syrup and juice.
The Hong Kong Special Administrative Region government has formed a special team and put it in charge of Taiwan-imported food inspection.
The Center for Food Safety released the results of its first DEHP test on May 30, showing two of the nine tested beverages imported from Taiwan contained DEHP, 1 to 17 times more than the safety standard. The next day, Hong Kong banned imports of the two drinks, Dongneng Sports Drinks and Dongneng Sports Drinks Lemon Flavor.
On Tuesday, the center added 23 kinds of fruit syrup and juice to its blacklist after Taiwan notified it that the products had been distributed to Hong Kong.
More than 500 shops and restaurants sell Taiwanese bubble tea, according to the Hong Kong Food Council, but now many residents are opting instead for tea or fruit juice.
"I dare not drink the Taiwanese bubble tea any more," Christy Lau, 29, told China Daily.
A study last year by the biology department at Hong Kong Baptist University found the presence of DEHP in blood samples of more than 90 percent of 200 local residents. "However, the result is not too serious," Huang Gangzhu, a biology professor, said in an interview with Sing Tao Daily. "Related indicators of the blood samples are comparatively low."
Huang said the tests show that DEHP has been in food for a long time. "This kind of chemical is easily absorbed yet hard to discover."
Each year, Hong Kong tests 60,000 to 70,000 samples of food and beverages, according to its Food and Health Bureau. On June 3, the Center for Food Safety added DEHP to its list of items it tests for, and suggested an allowable limit of 1.5 milligrams a kilogram. Any item exceeding the standard should be reclaimed and destroyed, the center said.