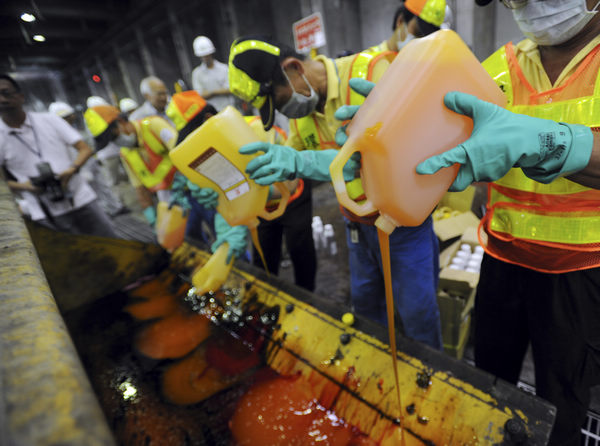 Food inspectors in Taipei dispose of beverages contaminated with a plasticizer at a waste treatment plant on Saturday. A total of 2.34 tons of contaminated products were destroyed at the plant that day. [Photo/Xinhua]
Would you care for bubble tea or a sports drink? Some papaya jam? These days, the answer is likely: No, thank you. No way.
Tempting as they appear, those foods might contain DEHP, an organic compound usually used to make plastic soft and pliable. Taiwan's health authorities announced the use of DEHP in some products on May 23 and demanded that 168 food processors recall more than 1 million tainted items.
On the Chinese mainland, the State Food and Drug Administration announced on Saturday that eight products, food flavors, butter substitute and baked goods, made in Guangdong and Zhejiang provinces were found to contain DEHP.
Related readings:


 Sales of drink from Taiwan on additive health scare


 66 more Taiwan goods banned


 Taiwan drink ban hits mainland restaurants
The plasticizer was illegally added to food and drinks as a substitute for a traditional and more expensive emulsifier, such as palm oil. For 100-yuan ($15) worth of palm oil, the same amount of DEHP costs only about 20 yuan, said Li Shuguang, a food science professor at Fudan University, during an interview with CCTV.
Consumers may not be familiar with DEHP by either of its chemical names, bis(2-ethylhexyl)phthalate or di(2-ethylhexyl)phthalate, but they have quickly recognized its initials.
Few people knew about melamine, either, until it was discovered in 2008 to have been added to dairy products, including milk powder for babies. At least six infants died and almost 300,000 people were sickened in China.
According to Li's research, DEHP in food and drinks can cause cancer. It also can lead to kidney or testicular damage and fertility problems if it is consumed regularly and accumulates in the body. Children are the most vulnerable group, his research shows.
Governments on mainland and elsewhere have responded.
In Taiwan, 286 tons of tainted food products were either incinerated at 850 degrees or poured into sewage treatment works on Saturday. On China's mainland by Friday, the food safety watchdog had suspended imports of 950 kinds of products made by 280 companies in Taiwan.
However, Chen Junshi, director of the Fortified Food Office under the Chinese Center for Disease Control and Prevention, asked consumers to calm down and not be frightened by the figures. "The listed products only account for a small portion of all the products in the market. There are far more we can eat."
Chen also said only one company has been identified as producing the DEHP-tainted emulsifier and selling it to food and beverage manufacturers. He said there was no evidence the "downstream manufacturers" were aware of the illegal additive.
The Taiwan government identified the company as Yushen Food Co Ltd, the biggest emulsifier supplier in Taiwan. It has a relationship with Yuyan Food Co Ltd, in Dongguan, Guangdong province, although the exact nature of the connection couldn't be determined.
On June 1, police in Guangdong arrested the owner of Yuyan Food and confiscated 6 tons of food additives and 0.6 ton of raw materials. The initial probe showed that raw materials Yuyan Food imported from Yushen Food might have been contaminated by DEHP.
Yuyan Food started operations in April 2009 and produced about 3,000 kilograms of food additives every month, on average. The products were mostly sold in the province, food safety officials said.
The latest test results show that eight of the 6,100 samples tested in 28 provinces in China were found to contain DEHP. The products came from four manufacturers from Guangdong and Zhejiang.
1,000-plus additives
The guarantee of food safety lies in production rather than supervision, said Chen from the CDC's Fortified Food Office.
"The allowed food additives in the country total more than 1,000 items, which can be tested, but many companies do not announce what they add to their products," as required, Chen said. "It's impossible for the supervisory department to conduct a thorough inspection of all the hundreds of thousands of chemical components. It's impractical because all the cost would finally go to the consumers in the end."
It is unlikely that DEHP has been added to many foods and drinks on China's mainland, but only "because mainland enterprises have not mastered the technique yet," said Dong Jinshi, executive vice-president of the International Food Packaging Association.
Still, he expressed concern over the abuse of plasticizers. For example, he said, polyvinyl chloride (PVC) wrappers might leach out the DEHP they contain when they are used to wrap high-fat foods or food that is being heated.
And there is always a risk when materials are added illegally, he said. "When making plastic containers, some manufacturers might add in poisonous chemicals or add in an overdose amount to make their products softer and brighter."
About 20 kinds of plasticizers have been widely used in commodities such as packing materials, plastic containers for cooking oil and toys, he said.