LANZHOU - Severe sandstorms have swept across parts of northwest China's Gansu Province, disrupting people's lives and damaging thousands of hectares of crops, local authorities said on Friday.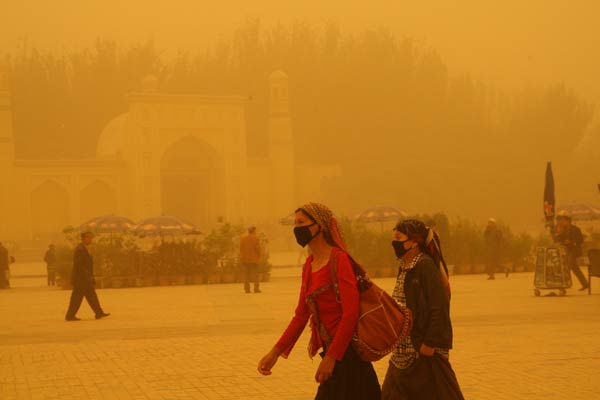 Two women walk amid sandy air on a square in Kashgar, Northwest China's Xinjiang Uygur Autonomous Region, April 29, 2011. [Photo/Xinhua]
Related readings:


 Sandstorms shroud Xinjiang prefecture


 Efforts afoot to prevent pollution from sandstorms


 Sandstorms to whip north China


 Cold front to bring sandstorms to N China
A total of 4,734 hectares of crops were damaged and 70,914 people from 20,554 households were affected after a strong sandstorm ravaged Jinta County on Thursday, a spokesman with the government of Jiaquan City, which administers Jinta, said on Friday.
Under the influence of a round of cold spells from the western Xinjiang Uygur Autonomous Region, fierce sandstorms have been wrecking havoc in Gansu Province since Thursday afternoon, with wind speeds up to 25 meters per second and visibility reduced to 100 meters, according to the Central Meteorological Observatory of Lanzhou City, capital of Gansu Province.
Yang Jiancai, an engineer from the Lanzhou meteorological observatory, said that sandstorms with visibility below 500 meters are categorized as severe, while those with visibility below 50 meters are considered extremely severe.
Additionally, north China's Inner Mongolia Autonomous Region and Xinjiang Uygur Autonomous Region in the far west have been devastated by strong sandstorms since Thursday.
Gansu Province was hit by the strongest sandstorm in nine years in April 2010. Four people were killed in accidents triggered by the sandstorm, which also flattened 547 houses.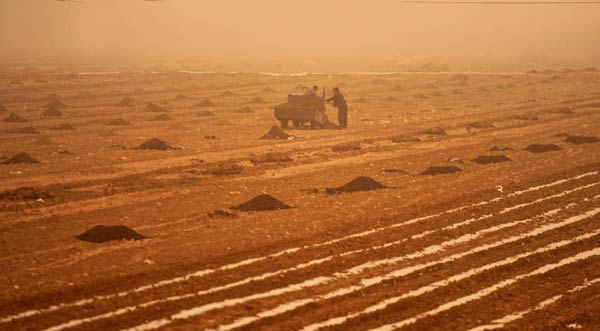 Two farmers work on their field amid sandy air in Qingshuihe county of Hohhot, North China's Inner Mongolia Autonomous Region, April 29, 2011. [Photo/Xinhua]