BEIJING - More efforts are needed to prevent toxic coal-dust storms in China and to protect the public's health, warn environmental activists.
According to a report released by the environmental organization Greenpeace on Wednesday, sandstorms often pick up coal ash and other coal-combustion pollutants when they pass through regions where the coal industry is concentrated in China -- places like the Inner Mongolia autonomous region, Shanxi and Shaanxi provinces. The result is toxic coal-dust storms.
Related readings:


 Sandstorms to whip north China


 First batch of sandstorms to last till Monday


 Cold front to bring sandstorms to N China


 Sandstorm hits NW China, affects Beijing
Sun Qingwei, a Greenpeace Climate and Energy Campaigner, said such clouds composed in part of toxic substances have serious consequences for the environment in northern and eastern China and threaten the public's health through their deposits of toxic elements.
"Sandstorms carry heavy metals and other toxic materials, such as mercury, lead, cadmium, fluoride and sulfur," said Pan Xia, a professor from Peking University's School of Public Health.
"Although the quantity of heavy metals found in sandstorms is low, they often cause sickness because of bioaccumulation, meaning they can be difficult to remove from the body."
"The inhalation of dust from a sandstorm that contains heavy metals will seriously damage respiratory organs," said Xiao Yonghong, chief physician of the No 1 Hospital affiliated to Zhejiang University. "Selenium in the sandstorm is a chemical element that can produce severe pneumoconiosis, and antimony can cause fibration of the lungs. And that's not to mention arsenic, a well-known toxic element."
The Ministry of Environmental Protection has been working in recent years to reduce the amount of air pollution stemming from industrial dust and waste. According to the ministry's statistics, the amount of industrial dust released decreased by 35 percent from 2006 to 2009.
But Zhuang Guoshun, a professor with Fudan University's atmospheric chemistry research center, said coal ash, which makes up the bulk of industrial dust and poses the most severe harm to the public, is not being released at a significantly slower rate.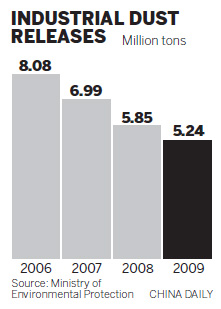 "The amount of pollution brought about by coal ash is hard to estimate, but rain will certainly take floating ash down with it and contaminate water sources," Zhuang said. "In my research in Taihu Lake in Wuxi city, I found that 20 percent of the pollutants in the water there had come from dust that had fallen out of the air."
Because of the movements of sand storms, heavy metals mainly found in coal ash have been spread to places as far apart as the Pearl River Delta in the south, Yangtze River Delta in the east and North China.
Two large sandstorms have occurred in Inner Mongolia since March, and China's national meteorological center predicts that six to nine sandstorms are likely to occur in April and May.
"Sandstorms have become a way that coal pollution is spread, extending the reach and consequences of coal burning and worsening the air quality in cities," said Zhuang.
"The government needs to shift its sole priority away from trying to reuse coal ash and concentrate more on managing the environmental effects of the waste itself," said Sun from Greenpeace.